The first meeting between these teams last season was met with enough hype to make P.T. Barnum blush. (It was also met with enough purple and gold lethargy to make a Lakers fan lose his Christmas brunch.) One year -- and two similarly disappointing series against the Dallas Mavericks -- later, and the setting has changed. The Lakers are trying to prove that a championship pedigree still exists, while the Heat are trying to prove their pedigree is matched by a championship heart. A win in AmericanAirlines Arena would help re-establish the Lakers' credibility, and a win with Dwyane Wade possible in street clothes would be a meaningful one for the Heat.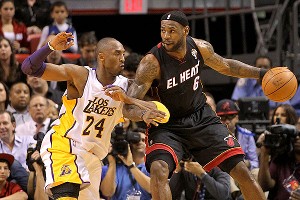 Mike Ehrmann/Getty Images
It's a shame this game doesn't feature much in the way of star power.
For a look inside Thursday's extravaganza, we talked some shop with Tom Haberstroh, who covers the Big Three & Co. for the Heat Index.
Brian Kamenetzky: Is Wade going to play Thursday?
Tom Haberstroh: I'd bet my authentic Drazen Petrovic jersey that Wade is not going to play. All the players at Wednesday's practice spoke as if he was already ruled out. Erik Spoelstra called him "day-to-day," which has been his status for a couple weeks now.
BK: So what does that mean? They're like Tim Tebow without him. All they do is win. Or at least like pre-losing Tebow.
TH: This is a great point. Maybe we have to look into this a little more, because LeBron made some Tebow comments before the game that Wade got hurt in ... Conspiracy! Wade being out means that LeBron James and Chris Bosh get to go back to their Cleveland and Toronto days, respectively. You saw the free-wheeling attitude Tuesday against the Spurs.
But I should add -- 4-0 does NOT mean that they're better without Wade. Bosh and LeBron are better without Wade, but the Heat are not better. Need to put this meme to bed.
Andy Kamenetzky: Kinda like the meme people throw out whenever the Lakers happen to win a game without Kobe. Having said that, how much confusion still lingers between LeBron and Wade in terms of co-existence?
TH: They're worlds better than they were Jan. 19, 2011, but they still have a way to go. I'm still clamoring for more Wade/LeBron pick-and-rolls, but something tells me Spoelstra is keeping that trick up his sleeve for the playoffs. But I think it's no secret that they need to create more actions where each of the Big Three are moving together, not just LeBron and Wade.
Of course, it makes it tough when Wade is in street clothes with a canary-yellow diamond in his ear weighing him down.
BK: Tom, you wrote a great feature a while back on Spo and his new visualization of a Heat offense. How has that played out in the early going?
TH: The first thing I should point out is that the Heat are actually running. We hear it all the time from coaches: This is the year we're finally gonna run, I swear! But the Heat are actually picking up the pace and keeping the foot on the gas, which is impressive in and of itself. Secondly, it's not all roses and butterflies when it comes to the up-tempo offense. For example, the Heat's offense has fallen from third-best to seventh-best in the league since last season. Why? Evidently, it's hard to stay in control when you're driving at blinding speeds.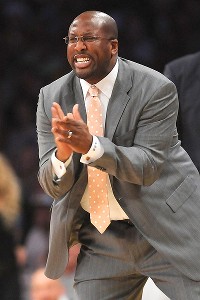 Jayne Kamin-Oncea/US Presswire
Mike Brown will be on the sideline for the first time against LeBron.
So let's talk about something that Miami radio can't get enough of: Kobe's exclusion of Wade and LeBron as competitive peers. Something tells me that quote might have been taken out of context, but was that an intentional dig at stars not named Chris Emmanuel Paul?
AK: Well, sorry to disappoint the gossips, but I don't think this was a case of Kobe tossing out subliminal disses. Kobe was specifically asked to compare Paul's competitiveness against his own -- it's hardly a secret that Kobe loooooooves CP3, who's cutthroat about losing -- as opposed to Kobe voluntarily praising contemporaries off the top of his head. Does Kobe think LeBron or Wade are wired like him? I really don't know, but reading too much into a response to a leading question feels like a reach.
TH: Hmm. That's odd. I've never, ever seen a quote from these two teams blown out of proportion. Never!
Brian: First time for everything.
AK: In the age of 24/7 media, you had to figure this would happen at some point.
TH: Here's something that I was chatting with Spoelstra about today: Kobe Bryant's prolific shot-taking.
This is nothing new from Kobe, but it kind of is. Pau Gasol and Andrew Bynum combine for 25.3 field goal attempts per game. Kobe? 24.9. Is that a good thing or a bad thing? No gray areas allowed!
BK: Short-term, it has worked. They're winning games. Long-term, it's not a sustainable formula. A lot goes into it. First, the Lakers have been absolutely mauled by the schedule. The gap between Monday's game against Dallas and Thursday against Miami was the largest they've had since Christmas Day. Meaning they've had almost no time to practice, and when they do haven't been able to go full-speed in any of them.
Mike Brown is installing plays on game days and running them that night so the first real live action comes against the other team. That's tough. But the one thing they have managed to figure out is how to get Kobe his shots. They're doing a great job running him off ball, from weak to strong, using screens and so on to create the sort of high-percentage looks from mid-range or catch-and-shoot opportunities from the perimeter.
Unfortunately, since it's really all they've figured out, they do it a lot.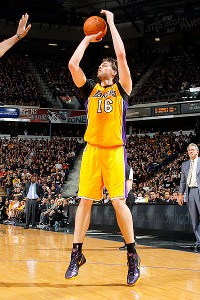 Rocky Widner/Getty Images
The Lakers need to find a way to involve Pau more in the offense.
From there, Bynum has been learning to deal with constant double-teams, something he's never seen at this level, which has limited his shot totals over the last few games. The guy who is really getting squeezed is Gasol. He's averaging a career low for FGAs per game, and a higher percentage of those he gets are coming from 16-23 feet. They're not getting him into the post very often, first because it's very crowded down there, and second because they need him facilitating at the elbow or higher (this along with moments when Gasol hasn't been as aggressive as he could). So he's sort of floating around, a very talented man without a purpose. The Lakers have to figure how best to use his skill in the offense.
TH: So on a scale of 1-10 with 1 being Phil Jackson Zen calmness and 10 being absolutely terrified, how concerned should Lakers fans be of the aftereffects of Kobe's unconscious shooting these days?
BK: If he's still doing this in mid-February-- by "this" I mean carrying a usage rate around 37 percent (or higher in some calculations), because it's not just the shooting, but the absurd amount of the offense for which he currently accounts-- Lakers fans should be very, very worried. Not only because no player on a championship team has had a rate that high or that the workload threatens to grind Bryant down, but also because it will continue to atrophy the rest of the offense. In the playoffs, when teams can lock onto Kobe and force other players to succeed, will they be able to execute? I don't know.
Unfortunately, the Lakers have problems in lightening his load. There is no secondary scorer off the bench. Nobody else can handle the ball, create a shot or penetrate. It's not just a matter of Kobe trying to prove a point, which he certainly was following that 6-of-28 showing against Denver, but structural problems with the roster.
TH: So, how's Mike Brown?
AK: There are certain areas where I'm very impressed, and others where I think the jury is still out ... and to some degree through no fault of his own.
On the positive side, Brown's done a terrific job of motivating players and getting them to consistently play hard. This is the rare veteran team that doesn't take many, if any, possessions off. Even when fatigue is an issue (and it often is), they still bleed every ounce of available energy. Brown is also an incredibly meticulous planner, a film junkie who's borderline OCD when it comes to planning. Count Kobe Bryant among the fans of this characteristic.
TH: Spoelstra's cut from the same cloth in terms of maniacal preparation.
BK: Must be something about former video guys.
AK: On the other hand, his offensive game plan has grown muddy. Like Brian mentioned, this is due in part to the lack of practice, but it also feeds into Brown's rep for letting stars do whatever they want offensively and relying on defense as a safety net. I also think he's overthinking the rotation with his reserves. I understand the dissatisfaction with his options (they are, at best, flawed), but there's no hope of the second unit jelling if he keeps shuffling dudes in and out without warning. Brown's recently acknowledged this, so it'll hopefully settle down.
Tom, what impact has come from a healthy Udonis Haslem, and the addition of Shane Battier?
TH: Every minute with Juwan Howard on the bench is a good one. Haslem is an interesting case this season. He's putting up rebounding rates like he's Dwight Howard or Andrew Bynum, yet Haslem's smaller than LeBron James. It gives Spoelstra flexibility to run out some smaller lineups without sacrificing boards underneath, which is essential to their fast-paced attack. On the other hand, his jump shot is a mess. He couldn't hit water if he threw a rock into Biscayne Bay. Outside the basket area, he's shooting 11-for-42 or 23.4 percent (shout out to Hoopdata!). The mid-range shot is not helping anything right now, but that'll come around eventually; he has traditionally been a fantastic mid-range shooter.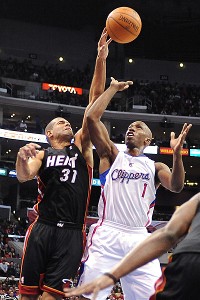 Noah Graham/NBAE/Getty Images
Battier is among the better players in the league at defending Kobe.
Battier is struggling too with his shot, but he's a defensive specialist first and foremost. They lacked that lockdown perimeter defender off the bench last season and it had a stronger effect on LeBron and Wade's stamina than people realize. Of all the conspiracy theories over why LeBron wasn't LeBron in the Finals, the one that makes most sense to me is that he was just exhausted. He could never admit that because we want these guys to be gladiators, but the minutes and the assignments (imagine Karl Malone guarding Derrick Rose!) probably took a toll on his body. Battier will help there, although he's not what he once was. The Heat have a logjam at the wing position which won't be quite as interesting now as it will be when Wade returns.
BK: What are a couple of keys for the Wade-less Heat to beat the Lakers?
TH: First, if Chris Bosh gets into foul trouble, this could get ugly real fast. The Heat are extremely thin underneath, as their two centers in the rotation (Joel Anthony and Haslem) are both shorter than 6-foot-10. Last season, they had some trees underneath in Big Z and Erick Dampier, but they could really get pummeled by the Gasol/Bynum tandem. That is, if Kobe will let them.
BK: Zing!
TH: Second, can Shane Battier be a Kobe stopper? Spoelstra said he's preparing to throw LeBron on Kobe for stretches Thursday out of necessity. But Battier will come in handy. With Wade being out, there are some concerns about whether LeBron will be able -- or want -- to exert himself 110 percent on both ends of the floor every single play. The Heat would like to let LeBron roam defensively on Matt Barnes, but they might not have a choice. If Battier or James Jones can't neutralize Kobe, then we get the matchup everyone's been waiting for: The Black Mamba vs. The King.
What are you most excited for tomorrow??
AK: Beyond a 5 p.m. PT start? How Brown game-plans for LeBron. No coach in the league knows James as well, and Brown's nothing if not defensively obsessed. Barnes is the starting small forward and a dogged defender, but surrenders a lotta size. Metta World Peace could beat LeBron in an arm-wrestling match, but runs an 11.6 40 these days. Kobe might get a crack, but you don't want him expending too much energy on that end. I wonder if Josh McRoberts, with his size and surprising defensive quickness, might get even tossed into the mix as a change of pace. (This, by the way, is where Lamar Odom is missed. Or maybe it comes down to a true team scheme.
Either way, this is an important issue, and you know Brown's thinking about it.