Steve Nash insists he's not asking for a trade now, and won't in the weeks ahead. As long as he's still in Phoenix, the Suns will at least bear some resemblance to those truly high-end teams of years past.
Except any similarities aren't particularly meaningful anymore. Last year, Phoenix finished six games out of a playoff spot at 40-42, and in a highly competitive Western Conference this year's edition is again only a fringe contender for the postseason. They enter Tuesday's game at Staples Center a .500 team, and rising too far above that mark will likely be a tall order.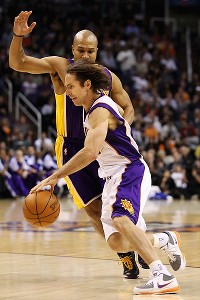 Christian Petersen/Getty Images
Steve Nash has recovered from early season bumps and bruises, and is playing well.
Rising to the level of an entertaining team? That's more manageable. Once again, it goes back to Nash. When he's right physically, he's still brilliant and the Suns can be fun to watch.
As of today, he appears to be right. To gain more insight into the two-time MVP and his teammates ahead of tonight's game, we hit up Michael Schwartz of Valley of the Suns, part of the TrueHoop network. (For my answers to his questions, click here.)
1. In the early going, the Suns have flipped their typical script. The offense has been pretty average, but the defense is in the top third in the league. What accounts for those numbers? Are they likely to stick?
Schwartz: Well, the biggest reason is small sample size, as the Suns played well enough offensively last week to improve to 12th in offensive as well as defensive efficiency. In particular during their last two victories over Portland and Milwaukee the Suns raced out in transition, nailed jump shots and seemed to finally get their mojo back.
Before the Suns rediscovered their offensive rhythm, players pleaded that they were just missing shots they normally make. Channing Frye in particular knocked down just four of his first 23 3-pointers and then drilled all four on Sunday. Combined with Steve Nash playing hurt, the Suns transformed into an anemic offensive crew.
I still don't think they are as good as the Suns offenses of yesteryear that annually led the league in efficiency being that they are without a go-to scorer and rely so much on Nash, but there's no reason to think this isn't a top-10 offense.
The Suns hired Elston Turner to be their defensive coordinator and thus far he has made a difference with a defense that features more ball pressure and traps than the Suns have used in the past, as my colleague Mike Schmitz explains, with the ultimate goal being to force contested mid-range jumpers. I see the defense eventually drifting to the middle of the pack.
2. How has former Laker Shannon Brown fit in? What is his role with the Suns?
MS: It's been a bit of a struggle to become accustomed to the Suns' more open system, where he's not only allowed but required to shoot the ball whenever he has an opening. He's compared it to going back to his pre-NBA days when he felt he could score without even thinking about it.
His role is supposed to be to provide instant offense off the bench. The Suns' reserves have struggled to score at times this season, and Brown is expected to be one of the lead gunners when Alvin Gentry turns to his bench unit.
Thus far he's shooting just 32.8 percent from the field and 27.3 percent from three and he hasn't met too many shots he doesn't like. The Suns want him to take any good shot that comes his way, but at this point it would be beneficial if he cut out some of the bad shots as well.
3. Steve Nash got off to a bad start, but has rebounded a little in the last few games. How productive can he still be at 37?
MS: More productive than any 37-year-old point guard in league history. That isn't saying much considering most points guards don't possess Nash's longevity, but over the course of the last four games we've seen that Nash is still Nash.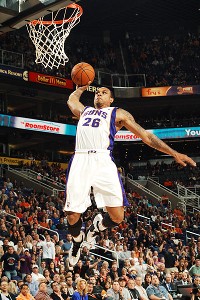 Barry Gossage/NBAE/Getty Images
Shannon Brown is struggling with his shot in Phoenix. Ones longer than this one, at least.
Two Time suffered a rib injury in the season opener that hampered him in Phoenix's first four games: he averaged 8.3 points and 7.8 assists per game in those four contests. When he's felt much healthier in the Suns' last four games, he has averaged 15.8 and 11.8.
Sunday, he was every bit the magician he's always been, particularly in a flawless first quarter in which he handed out five assists in the first 2:07 and nine in the first 6:19. He made all the right reads and hit the bottom of the net with every open shot.
The question with Nash the last few years has been: Is he healthy? When he's played hurt with a variety of back ailments and pelvic instability, he's struggled. When he's been healthy, he's produced like a top-five point guard. So long as he maintains his health, Nash will still be an elite player in this league at 37 and soon 38.
4. How does this Suns team best attack the Lakers?
MS: We learned the last two games how important it is for the Suns to get out in transition (as if we didn't already know that from the past seven seasons of the Nash era). The Suns played at a much slower pace than usual through their first six, and that certainly led to their offensive struggles. They will be much better off if they can find scoring opportunities before the Lakers' defense is set.
The Suns don't have any isolation players so they will rely on Nash to attack the defense and take advantage of mismatches. When Nash creates openings, the Suns must knock down shots as they have done in their last two games.
5. Defensively, what's the strategy for keeping points off the board? Which Lakers pose the biggest matchup problems?
MS: The Suns' defense has succeeded because it has kept the opposition's leading scorers in check thus far this season, thanks to team defensive principles, but the unit hasn't faced a trio quite like the Lakers' Big Three.
Obviously Kobe is a monster, but I'm most afraid of Bynum and Gasol. Frye has improved defensively, but I don't see how he has a chance against Gasol in the low blocks, and while Marcin Gortat is a solid post defender it's hard to imagine the Polish Hammer holding Bynum in check on his own. That means the Suns likely will rely on lots of help defense, but even then it's hard to see how Phoenix will contain the Lakers' Big Three.