Pau Gasol's disastrous postseason has already been dissected like a biology class frog, so we'll skip the rehash. The dirty little secret of this wipe out, however, is that his regular season actually signaled what laid ahead, albeit in more subtle fashion. Gasol's 2011 campaign was, by his high standards, spotty. That's not to say Pau played badly, because he didn't. Plenty of big men would be plenty satisfied with his numbers -- 18.8 points, 10.2 rebounds, 3.4 assists, 1.6 blocks -- in line with the best of his career, much less as a Laker. But one of El Spaniard's greatest strengths is his consistency, and he wasn't nearly as reliable game to game this season.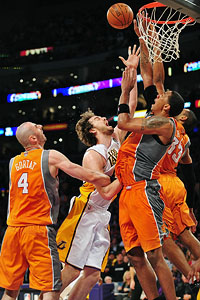 Gary A. Vasquez/US Presswire
Even games against a front line like Phoenix's sometimes provided a challenge for Pau.
The inconsistencies are revealed in his splits: December and January scoring averages below 17 points, including a December in which he shot below 50 percent from the field, which is basically unheard of for Pau. The inconsistencies are also revealed in his game log. Seven games with 16+ rebounds, but also pockets of multiple-game streaks with single digit grabs. Even during the Lakers' post All-Star break dominance, there were four consecutive games with just five rebounds. That's a modest haul by Kobe Bryant's standard, much less a seven-footer's.
But beyond the numbers, there was Gasol's general presence, or frequent lack thereof. Too many games where he wasn't effective facilitating in the triangle or displaying his versatility. Too many games with wayward body language or defensive intensity. And too few games imposing his will. Throughout the season, something felt intermittently off. As I noted in a post questioning his All-Star inclusion, there were an awful lot of "what's wrong with Pau Gasol?" questions being tossed around.
Cut to the playoffs, then to the decidedly melancholy exit interview.
The cause for instability remains a mystery, but it may not have been one single factor. There were signs of fatigue almost immediately after Theo Ratliff joined Andrew Bynum on the shelf, which left Pau as the team's only center for all intents and purposes. It's one thing to play increased minutes at your natural position, as Lamar Odom always has with Bynum unavailable. It's quite another when the extra workload comes with size and muscle surrendered. That Pau has spent nearly four seasons in this setup may have exacerbated the physical toll. His scoring differences on the second end of a back-to-back (17.5 ppg, 50.8 FG%) vs. games with two days rest (19.3 ppg, 58.7 FG%) hint at an early collision with the proverbial "wall," from which he never quite recovered. (On a related note, it bothered me a lot how during that period short on bigs, Phil Jackson never bit the bullet on an 8-10 minute role for Derrick Caracter for the sake of the bigger picture.)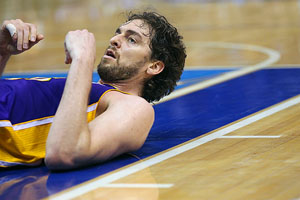 Ronald Martinez/Getty Images
Pau's rep got knocked down this season.
Of course, it also felt at times like Gasol's head was elsewhere all season, a vibe confirmed by Gasol's acknowledgment of personal problems. The root of the matter remains a mystery, although I believe Pau's denials of a rift involving his girlfriend -- who attended games while the two were supposedly on the skids -- and a teammate's wife. This explanation, which might as well have doubled as a "Basketball Wives" season finale, felt too conveniently juicy. Never say never in this crazy world, but really?
Whatever was going on, Pau isn't the first person whose personal issues bled into his professional life, and won't be the last. His job may be more public than most and his salary more generous, but he's still human. That's not to say he deserves a pass, but rather that only cyborgs come equipped with on/off switches. And for all the speculation as to what twisted up Gasol, the actual problem itself isn't nearly as important as his ability to get past it. I asked Pau during his exit interview if he was confident about moving forward:
"Yeah. I think we all as humans go through personal things, whether they can be of certain magnitudes, and you have to try to deal with them as best you can. That's what I always try to do. I'm a very caring person and very devoted. It helps me in many ways and sometimes, it's not as helpful. But I think one of the things now about our reality is that I have a little bit of time to make sure I resolve things that need to be resolved."
The proof will be in next season's pudding. But for what it's worth, Gasol took a beating after the 2008 Finals, and he used that scorn as motivation to come back stronger. The fury currently directed his way will (deservedly) be even worse. But between Pau already recognizing the parallels and his established track record, I'm confident in extending a benefit of the doubt for a 2012 bounce back.
That generosity, however, won't be extended towards his grade: C/C-
Previous report cards