Let's get one thing out of the way: The Lakers will not win this game by 55 points, nor will they hold the Dubs to 57 points. A spanking like Tuesday's is of the historic variety. If the opening act of this back-to-back serves as the measuring stick, the encore is guaranteed to disappoint. Still, the Lakers arrived in Oakland well rested and the vastly superior team, which means a victory should be the outcome, all things being equal. Here are a few items to watch once the ball is jumped.
Vlad Radmanovic, the leader
The man of a thousand nicknames has emerged an unlikely veteran presence in the Bay Area. In December, Radmanovic ripped his teammates for lazy practice habits, playing the role of sage veteran for a team whose young core has very little experience in winning. I'd hold off before pegging Vlad Rad as Derek Fisher 2.0, as the Dubs remain a squad largely incapable of beating anybody good. But if nothing else, Radmanovic's words seemed to have sparked the best in himself.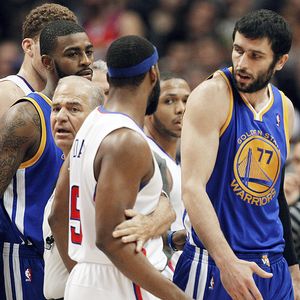 AP Photo/Alex Gallardo
Vlad Rad has been trying to rally Golden State's troops by any means necessary.
For starters, his numbers have improved since the speech. I also once described Vlad as the league's most "tangible" player, in that you can typically look at a box score and know exactly what he provided. However, Keith Smart recently praised Vlad's defense (not a typo) and willingness to do the proverbial "little things." He even got into it with Baron Davis during a loss to the Clippers, and I'm guessing it wasn't actually about beard bragging rights. The guy seems to be taking a fierce approach to this season.
Could all this amount to an intenser version of the player Lakers fans unhappily watched for 2 1/2 seasons? It's hard to say. On one hand, he may still consider his ex-mates among his buddies. On the other, players often love to bury teams that traded them, and it's believable Vlad remains none too fond of Phil Jackson (who still lives to needle him). Either way, it's probably best to expect the exception from the famously flighty forward, then wait for him to prove the rule.
Having said all that, you can still bet the house on an air ball at some point during the game. And probably one bizarre turnover, too. I don't care how focused Radmanovic is. Some things simply don't change.
Dorell Wright's recent surge
The swing man was among those deemed expendable when the Miami Heat retooled themselves into the evil super team. But taking his talents to Oakland meant more opportunities, and Wright has made the most of them. He's pouring in a career-high 16.5 points per game this season, highlighted by a scorching 42 percent clip from behind the arc. He's also been particularly en fuego over his last 10 games. 21.7 points per contest, shooting 53 percent from the field and a honking 49 percent from downtown.
Undoubtedly, the focus heading into tonight's game will fall on the higher profile of trio of Monta Ellis, Steph Curry and David Lee, but Wright can't be slept on. I don't know if he'll be primarily guarded by Kobe or Ron Artest, but either way, close attention is in order.
Steve Blake's shooting
If there were any downside to be found in yesterday's demolition (beyond LeBron James' inability to ever walk the high road), it was the backup point guard failing to rediscover his stroke. Blake missed four of his five shots for just two points, which unfortunately represents two more points than his combined total in the preceding pair of games. Blake is averaging a paltry 3.7 points in January, is coming off a December with a 33.3 percent clip from the field and hasn't hit double figures since Dec. 3.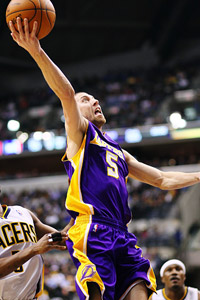 Michael Hickey/US Presswire
Chances are, Steve Blake didn't hit
this shot. That needs to change.
And while I can't say for certain whether this goes hand in hand with the misses, Blake hasn't taken more than eight shots in a game this season, a high point reached on Oct. 29. He's not even averaging four attempts this month.
When Blake was signed this offseason, nobody expected him to operate as a "combo guard," or even a scoring point guard along the lines of Steve Nash or Deron Williams. His primary goal is to run the offense, and he's generally done a nice job keeping everyone involved and on the same page. But he also needs to represent a scoring threat on some level, particularly considering the void left in Matt Barnes' absence. Luke Walton -- who'll now reenter the rotation -- is an unreliable scoring option and capable of distributing, so Blake can tweak his focus a bit toward buckets. He needs to take more shots. And more importantly, he needs to make more shots.
On a related note, the Warriors allow a 37 percent success rate from downtown (Blake's sweet spot), nearly 47 percent from the field, and their defensive efficiency (108.4) is fifth worst in the league. Golden State is a team incapable of defending anybody, much less the Laker newbie. This evening provides an ideal scenario to begin rediscovering a groove.
And finally, judging by his enthusiastic reception at Staples Center, Lakers fans are rooting along the professional career of Warrior/local product Jeremy Lin. Unfortunately, tonight won't serve as a vehicle to cheer for his individual success, as Lin's been reassigned to the Reno Bighorns in the D-League.