The marquee reads Bryant vs. James. Reality paints a different picture. Kobe and LBJ may be the two best players on God's green, but with Ron Artest in purple and gold, the pair are likely to spend only minimal time actually versus-ing each other. However, there are key matchups o'plenty between the rest of the participants, any one of which could tip the game.
Here are five to watch:
1) Shaquille O'Neal vs. Andrew Bynum: Shaq is 38 years old and a shell (shell-adjacent at best) of his former Diesel self. Or even the Diesel that PER-ed his way to a 22.3 rating last year in Phoenix (through Wednesday, it was 15.2). He's struggled to fit in with the Cavs on both sides of the floor. Via 82Games.com, Cavs are 9.4 points worse with Shaq on the floor. That doesn't mean O'Neal doesn't have value. In some ways, he's the NBA version now of a lefty sinkerball specialist, one of those guys who plays until the age of 47 throwing 14 innings a year, all in thirds. Shaq wasn't brought in to beat the Indiana's and Toronto's of the world, but for specific situations- to limit Dwight Howard in Orlando and to counteract LA's size in the paint.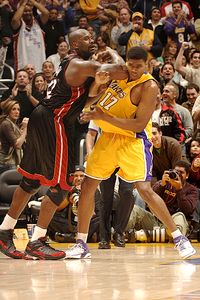 Andrew D. Bernstein/NBAE via Getty Images
Remember when these two squared off during Bynum's rookie year?
For Bynum, it's a high profile (to say the least) chance to apply the ol' shock paddles to a flagging December, revive an All-Star bid, and silence some critical voices... at least until tomorrow's game in Sacramento. We should know early how things will play out. Bynum told me after Tuesday's win he feels a game's first six minutes are crucial for him to find his rhythm and energy. I anticipate a lot of early contact and aggressive offensive play as both pivots jostle for advantage (and to create early foul trouble for the other).
Bottom line, O'Neal was effective against Howard last month, but if Bynum beats him up here, it'll cast more doubt on Danny Ferry's master plan.
2) Ron Artest vs. James: Over the course of his 500 game career, only one time has James been held without an assist. Three guesses as to who helped limit him (and..... go). Give up? Ask Ron, he'll tell you. "Last year, he didn't have no assists, the first time in the career. When I played against him," Artest said after Tuesday's win over Oklahoma City. "I got some pretty good defense." No surprise that Artest's Rockets held the Cavs to 74 points in that game. His arrival in LA means fans will be treated to The Most Physical Matchup on the Wings Since Time Dawned. There's absolutely nothing elegant about Artest's game, and while I think LeBron's game has more beauty to it than it often gets credit (particularly when he's passing the ball), compared to Kobe, James is the proverbial bull in the china shop. Except Artest is a tornado, and perhaps the only guy at his position capable of muscling LeBron from time to time.
Shutting down James totally probably isn't an option (he is, after all, LeBron James), but Artest is certainly capable of making James more one-dimensional. Maybe James sticks to the perimeter, or doesn't get to the line enough to match his 9.2 attempts per game. Or maybe Artest can limit the dimes, as he did last year.
Or maybe he can't. Given how dominant a role James often plays in Cleveland's offense, the winner of this matchup could determine the game's outcome.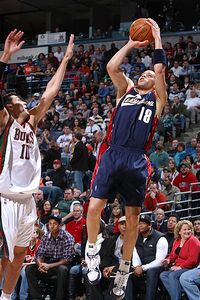 Gary Dineen/NBAE via Getty Images
Anthony Parker's three-point shooting could bust the game open for the Cavs.
3) LA's 3-point defense vs. Cleveland's 3-point shooting: Something, in theory at least, has to give. The Cavaliers are the Eastern Conference's best 3-point shooting team at 42.3%, helping explain why they have the NBA's fourth highest total for threes despite ranking only 11th in total attempts. Anthony Parker is connecting on 50% of his attempts from the far-line, Daniel Gibson 49.5, Mo Williams 44%, James 37%. (By contrast, LA's best marksman among rotation players is Artest at 36.5%). Add in Zydrunas Ilgauskas, who can step out and hit a three- just ask the Kings- and Cleveland has more bombers than an open mic night at the comedy club. But the Lakers, at 30.1%, defend the three better than any team in the league, and their defensive versatility makes it tough to create the sorts of mismatches that help lead to easy looks from beyond the arc.
4) Laker Bench production vs. limited options: Luke Walton's balky back has him on the shelf and Sasha Vujacic's inconsistent play has put him there, too. Meaning Phil Jackson is essentially working with an eight man rotation in which Lamar Odom, Shannon Brown, and Jordan Farmar are the only three reserves who can reasonably be expected to play very much. They also need to play well.
5) Mike Brown vs. his struggle to juggle a rotation: On the other hand, Brown has ten players on his roster averaging more than 18 minutes a game. How he goes about using them is another matter, one often prompting Cavs fans to pull out their hair. Our buddy Matt Rohrs is from Ohio and a very dedicated fan of LeBron's bunch. Matt's even tempered enough to avoid becoming a bald fan, but that doesn't mean he's not driven batty by the Cavs coach. Here's his take on Mike Brown and the rotation: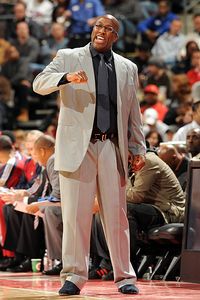 Allen Einstein/NBAE via Getty Images
Our friend Matt will have a merry or coal-filled Christmas, depending on what Mike Brown's decisions.
The Cavs' offense is a riddle wrapped in mystery inside the enigma that is Mike Brown's rotation. You won't find a contending team that's starters have a worse +/- than the Cavs. This primarily has to do with their starting frontcourt of J.J. Hickson (young) and Shaq (old), but Delonte West not yet cracking the starting lineup can't be overstated. Delonte is arguably the Cavs second most valuable player. His presence on the floor allows his teammates to do what they do best: Mo can spot up for open shots and LeBron can move without the ball. When Delonte's on his game, the Cavs are tough to beat. As the great Austin Carr broadcast during the Cavs' dismantling of Phoenix Monday night "As Delonte goes, so do the Cavs". This has never been more true, but what's been so troubling for the team and its fans is that Delonte hasn't proven that he can be depended upon on a nightly basis, and this creates all kinds of rotational problems for Brown (never his strong suit, anyway).

When the lineup of Mo Williams, Delonte West, Jamario Moon (or Daniel Gibson), LeBron James, and Anderson Varejao are on the floor for the Cavs good things happen. There is ball movement. There are drives to the basket. There are multiple players on the floor who can create their own shot and set up teammates. But when this lineup isn't on the court together, what's happened all too many times this season is that the Cavs offense lacks focus and stagnates back to every Cavs fan's worst nightmare: LeBron on five. You know the drill, you've seen it many, many times before. LeBron brings the ball up the floor, dribbles out the shot clock only to hoist up an off-balance jumper with multiple hands in his face. He's good enough most nights to make this work, but against top teams like the Lakers this isn't going to cut it. Neither is Brown's early-season version of the Twin Towers: pairing Shaq and Z together as the world's tallest, oldest, and slowest frontcourt (which I fear he'll use against the Lakers). The bottom line is that the Cavs are best served when LeBron keeps the ball moving on offense and Brown rotates players effectively. The Cavs are still trying to find rotational consistency and a way to utilize the variety of talent that GM Danny Ferry has assembled on their roster. To win in L.A. on Christmas day they'll need to find that consistency with ball movement and production out of their starting frontcourt. If not, it will be a blue Christmas for Cavs fans and, ultimately, another disappointing season.