The Lakers are coming off a quality OT win in Boston, which in theory creates the chance for a 4-2 Grammy roadie. The trek concludes in Toronto against a shoddy Raptors crew after a trip to meet a Knicks team that is missing superstars Carmelo Anthony and Amare Stoudemire, who weren't exactly laying a winning foundation, anyway. Even acknowledging their three-game winning streak, the shorthanded hosts should play the role of carcasses to the purple and gold vultures, right?
Well, that's exactly what was expected from a recent game in Milwaukee with Andrew Bogut and Stephen Jackson sidelined. For those with short memories, that emerged an embarrassing Lakers loss. In other words, this game may be imminently winnable, but the Lakers won't be awarded a W by default. They gotta play the game.
For some perspective on the Knicks, we talked to Jared Zwerling, who covers the team for ESPN New York. Here are his thoughts on five questions.
Land O' Lakers: Jeremy Lin has been huge during this recent surge. What in particular does he provide that the Knicks were lacking?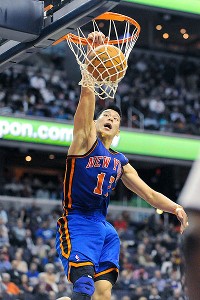 Brad Mills/US Presswire
Linsanity is taking over New York!
Jared Zwerling: For starters, he's very composed. Lin entered a very challenging situation, as the Knicks were desperate for substantial point guard play. He could have buckled under that pressure in an increased role in only his second year in the league. Not to mention, he's playing for the Knicks, in New York City, scrutiny taken to a whole other level. I was chatting the other day with Idan Ravin, one of the top NBA trainers in the world, and he said he's been most impressed with Lin's calmness and selfless approach. Sports psychologists say those are defining factors in superstars. They don't get rattled and make others look good. Lin has excelled in both.
Beyond his mental makeup, Lin's pick-and-roll game has been exquisite. He maneuvers well around screens, is patient and even has the dribbling ability to split double-teams like a Dwyane Wade. His standout pick-and-roll game has enabled Tyson Chandler more opportunities at the basket and the Knicks' shooters more open looks from downtown. When Lin is on the court, the Knicks are scoring more points in the paint and shooting a higher percentage.
LO'L: Carmelo Anthony and Amare Stoudemire won't be available. How can the Knicks overcome their absence against the Lakers (assuming you even think it's possible)?
JZ: 3-point shooting. With Anthony and Stoudemire out, Chandler won't be able to dominate the paint by himself against a front line of Metta World Peace, Pau Gasol and Andrew Bynum. Lin's pick-and-roll game will have to be at its best, so Landry Fields, Steve Novak and Bill Walker can get going from the perimeter. Iman Shumpert will be key, too. His scoring mentality diminished when he moved to point guard, but now that Lin has taken over, the rookie Shumpert needs to attack the basket and draw fouls. He has the size (6-foot-5, 220 pounds) and athleticism (42-inch vertical leap) to do that. Right now, Lin's been the only guard getting to the line.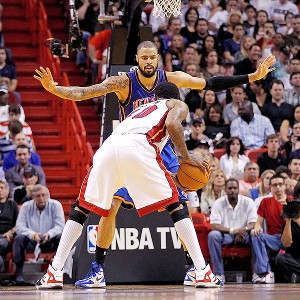 Mike Ehrmann/Getty Images
Tyson Chandler's done his part to improve the Knicks' D, but work remains.
LO'L: For all the focus on the Knicks' offensive woes, the defense has actually improved by most statistical measures. Is this the byproduct of scoring down across the league, or have the Knicks actually made strides?
JZ: It's a combination of both. Every defense has benefited from the shortened training camp and season. Less time for conditioning has meant heavier legs, therefore, more missed shots. But that's going to change as players get more in rhythm, so defenses will need to step up, and that includes the Knicks. They especially need to improve their rotations to close out on shooters. Currently, they're allowing teams to shoot 38.0 percent from downtown, which is the third-worst mark in the league.
Individually, Shumpert from the perimeter (2.05 steals per game; fourth-best in the league) and Chandler and Jared Jeffries down low, who are both excellent at weakside defense and taking charges, have been impressive. But Stoudemire, a key member of the front line, needs to step up in this category. He's allowed decent (not great) power forwards, such as Charlotte's Boris Diaw and Orlando's Ryan Anderson, to go off at the Garden.
LO'L: What matchup in particular are you looking forward to watching?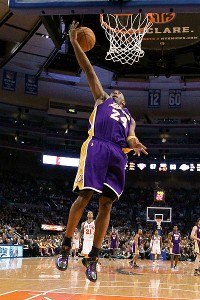 Al Bello/Getty Images
Kobe Bryant loves him some scoring at MSG.
JZ: Not really an individual matchup, but Lin versus the World Peace/Gasol/Bynum front line. The opponents he's faced during his tear -- the Nets, Jazz and Wizards -- are three of the worst defensive teams in the league. I'm very interested to see how Lin handles the immense pressure in the paint and if he can still be just as effective working the two-man game with Chandler and finding the Knicks' shooters.
LO'L: Kobe has a tendency to go nutty in the Garden. Should we expect the trend to continue?
JZ: Absolutely. What superstar doesn't want to play well at the Garden? Not to mention, Mike D'Antoni is on the opposing bench. Before the Knicks faced the Lakers on Dec. 29, Bryant made it very clear why he has the success he does against the Bockers. "It has a lot to do with Mike D'Antoni being over there," Bryant said. "We want to stick it to him every time we play against him."