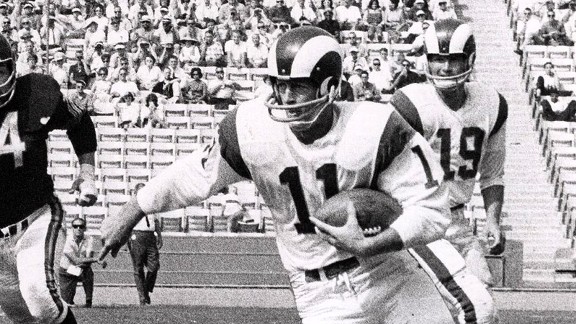 David Boss/US Presswire
The Los Angeles Rams' Terry Baker runs against the Chicago Bears at the Coliseum on Nov. 15, 1964.
Tim Tebow, meet Terry Baker.
The reaction of most sports fans would be, Terry who?
That's understandable, unless they were dedicated fans of the old Los Angeles Rams and are now collecting Social Security.
A half century ago, Baker was the Tebow of his time, an electrifying quarterback/running back who captured the national spotlight in college football and generated much speculation about whether he could transfer his success as a dual threat to the pros.
Baker seemed more comfortable running than throwing, a possible advantage in the NFL back then when there was more emphasis on the ground game then there is today. Johnny Unitas had electrified the country with his dominating performances at quarterback, but the type of helmet-busting, clock-eating ground game generated by running back Jim Brown, the other top superstar of that era, was still seen as the necessary foundation for a good offense.
Enter Terry Baker.
At 6-3 and 195 pounds, he was certainly no Jim Brown, nor was he a Unitas, but he was clearly going to be the No. 1 pick in the 1963 NFL draft.
In three years at Oregon State, Baker, with his arm and legs, had run up 4,979 yards of offense, the second highest total in college football history to that point.
He had capped off his Beaver career by sweeping all the major awards in his senior season, the Heisman Trophy, the Maxwell Award, AP and UPI College Football Player of the Year and Sports Illustrated Sportsman of the Year.
In all, Baker won 14 player of the year awards while at Oregon St. and made a dozen All-American teams. In his final appearance for the Beavers, he led his team to victory over Villanova in the Liberty Bowl. Oregon St. won 6-0, the lone score coming on a 99-yard touchdown run by Baker.
Sports Illustrated described him as being "like a James Bond in shoulder pads."
And as if that wasn't enough, he had further demonstrated his athleticism by helping lead the Beavers into the Final Four of the 1963 NCAA basketball tournament as team captain.
For the Rams, coming off a 1-12-1 season, it was a no-brainer. Maybe Baker wouldn't be the next Bob Waterfield or Norm Brocklin, but he surely would inject enough impetus into the offense to make the team at least respectable.
The Rams drafted Baker, paid him $25,000 for his rookie season, gave him a $15,000 signing bonus and eagerly awaited the start of training camp, confident they had obtained the key building block in their rebuilding process.
Not quite.
Harland Svare, the Rams' coach, quickly learned Baker was not going to be able to live up to the hype.
"Don Heinrich was my backfield coach," Svare told the Los Angeles Times. "When Terry came to camp … he was very impressive, barking out signals, whipping around and handing the ball off. Then we got (into) pass warm-ups, when most quarterbacks lob the ball …
"After he'd been in camp a couple of weeks … we started regular passing practice. He dropped back to throw and he's still lobbing the ball around. I called Heinrich over and said, 'Don, go tell Terry to put something on the ball.'
"He trots over and I see 'em whispering to each other, then he trots back to me and says, 'He is.'"
Baker, it turned out, was unable to effectively throw deep. He had made his reputation in an Oregon State offense that allowed him to mostly roll out and either run or connect on short, crisp passes.
"He was a great athlete and a tremendous person," Svare told The Times. "He had great command out there. He was a tremendous field general and very intelligent. He did everything he was supposed to do, except he didn't have an arm. Had he been able to throw the ball, he would have been one of the great quarterbacks of all time."
After starting his first game and being intercepted three times in the first half, Baker never started again.
After three frustrating years with the Rams, in which he threw four interceptions and zero touchdown passes, he spent one season with the Edmonton Eskimos of the Canadian Football League, then went on to a successful career in law.
Tim Tebow and Terry Baker may both be left-handed passers, but Tebow's problems lie in mechanics, not arm strength. And in his brief NFL career, Tebow has already enjoyed more success, limited as it has been, than Baker did.
Yet the comparisons will linger until Tebow can prove that he can truly graduate from college to the pros.
Steve Springer is a freelance journalist and the author of 11 books, including "American Son: My Story," with Oscar De La Hoya. He was an award-winning sports writer with the Los Angeles Times for 25 years.