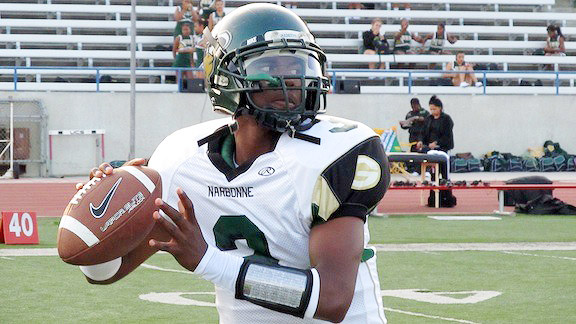 Blair Angulo / For ESPNLosAngeles.com
Narbonne's Troy Williams leads the section in passing yards (1,549) and is tied for third in touchdowns (11).Are the Narbonne Gauchos favored heading into Friday night's Marine League doozy against Carson? They might be.
Here's the reasoning: Carson lost to Long Beach Poly by 20 on Sept. 9 and, a week later, Narbonne did a little better, falling to Poly by just three. If those margins against a common opponent are any indication, the Gauchos appear to have the edge, right?
Well, Narbonne coach Manual Douglas isn't buying it.
"They lost, we lost," he said. "We're both losers."
Friday's loser will face an uphill climb in league. Narbonne (4-2), the 2008 champion, has won three straight since losing at Tesoro. Carson (3-3) has won two in a row since losing to Mission Viejo and has claimed the league title the last two years. Undefeated San Pedro (6-0) is also in the mix.
"They talk a lot and believe in themselves," Carson coach Elijah Asante said of Narbonne. "They talk -- you hear it from their coaches, you hear it from their players. They're definitely not scared of us. They want it."
Narbonne has reason to be confident with Troy Williams, the top quarterback in the City Section, calling the shots. The strong-armed junior leads the section in passing yards (1,549) and is tied for third in touchdowns (11). He has also ran for five scores.
Asante knows exactly what his team is up against. He got a firsthand look at Williams while coaching at USC's "Rising Stars" camp in the summer and came away impressed.
"He's something else," Asante said. "He is raw but his progression over the summer, what I saw is that he's got it. We're going to go after him. We're not going to make it comfortable for him."
The Gauchos' counter?
"We have a stallion back there," Douglas said, "and we have to protect him."
Blair Angulo covers preps for ESPN Los Angeles. Following him on Twitter.