Jody Thomas is a dreamer. He gets told each week by Servite defensive line coaches Chris Barrett and Mike Pitre to picture himself having success. Imagine himself making big plays. You know, "Be the ball." But really, who could imagine the 5-foot-10, 225-pound tackle intercepting two passes, returning a fumble for a touchdown and sacking the quarterback?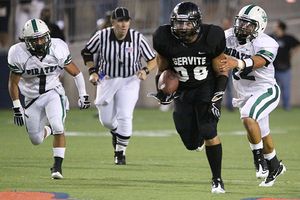 Courtesy of Laurence Martinez
Jody Thomas returns an interception during Servite's 31-7 win over Oceanside.
Yet that's what Thomas did Thursday as he set the tone for a Servite defense that led the way in a 31-7 victory over Oceanside to begin the 2010 prep season. The game matched Servite, ranked No. 1 in the ESPNLA top 25 and the reigning Division II State Bowl champion, against Oceanside, ranked No. 2 in San Diego and the reigning Division I State Bowl champion.
Oceanside is in rebuilding mode, but with six consecutive section titles, 16 consecutive appearances in the semifinals, and a 39-game unbeaten streak, the program guided by John Carroll – who was defensive coordinator on Servite's 1982 and 1983 championship teams – isn't exactly poverty stricken in the talent department.
Servite's defense was rebuilding, too. Rebuilding its defensive line, where Thomas is the only returning starter, and that was because he was a replacement for injured star Kirifi Taula (Arizona). Flanked by brothers Jarrett and Jherramya Leuta-Douyere and Connor Einck, they had an outstanding game collectively, relegating the defense's anchor, linebacker Matt Inman, to spectator.
"I made plays last year, now we got Jody Thomas making all the plays this year," Inman said. "The D-line picked up so good for me today. I'm just sitting back there watching plays happen. It's ridiculous. You have no idea how good our D-line is this year. They're so much better."
Servite's defense forced six turnovers that led to 17 of its points, not including the defensive stop it made on the first series that precipitated a short punt that set up a 38-yard scoring drive with a nice fade from Cody Pittman to Robert Abeyta that covered 15 yards.
Thomas sacked sophomore quarterback Tofi Pao Pao, and on the next play Jordan Jones intercepted a pass and returned it 43 yards leading to Connor Loftus' 19-yard field goal. With 1:41 left in the half, Pao Pao was leveled by Jherremya Leuta-Douyere and Thomas – who also plays fullback in Servite's power formation on offense – scooped up the ball and scored from 10 yards for a 17-0 advantage.
Thomas' second pick, which he returned six yards to the 22, set up Butch Pauu's 17-yard run from the wildcat. Pauu normally plays linebacker. Servite opened a 31-0 lead before the reserves allowed a touchdown in the fourth quarter.
"Actually, I told Jordan Jones, 'I'm going to get a pick,' " Thomas said. "I was just messing around. When a team runs screens, it's up to the D-line to stop it."
He stopped it. Now, after playing the game of his life, can he top this performance?
"I'm going to try. I'm sure I can," he said. "I'm just playing for my team. It's not about me, it's about our team. Being selfless is going to get us somewhere, and everyone played selfless tonight."