Some observations from the first weekend of high school sports in Orange County.
1. Among the three teams in the Trinity League that I saw this weekend, Mater Dei was the least physical. Servite and Orange Lutheran were both more physical, and OLu particularly so in the first half when making a statement in its game against La Habra -- a team everyone had talked about being so physical.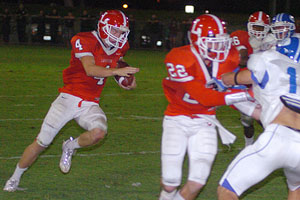 Courtesy of Scott Greenwood
Mike Markovsky (4) finds a hole in the La Habra defense in Orange Lutheran's 21-17 victory.
2. Santa Margarita put up 56 points against Diamond Ranch, which was in the Southeast Division finals the past two seasons. That's the most points since 1997 when Carson Palmer was the quarterback, and it's a lot of points against a two-time section finalist. Adam Young completed seven passes for 153 yards and two touchdowns (he also ran for two) and Cory Thomson rushed eight times for 110 yards and two TDs. Also impressive: Discounting a 62-0 victory over JSerra in 2007 during that school's first foray into the Trinity League, this was the first shutout since a 35-0 victory over Redlands in 2003. It was an eye-opening result all the way around in Harry Welch's debut as the coach.
3. Nick Richardson gave an indication of why he is the top running back in Orange County. He carried 15 times for 249 yards and four touchdowns in a 34-0 victory over Norwalk. Actually, it's a bit surprising the numbers weren't bigger. I figured Los Alamitos would score at least 40 in each of its five nonleague games -- certainly the first four (Mayfair, West Adams, Escondido Valley Center) -- though the Game 5 against Santa Margarita is becoming a lot more interesting.
4. Props to three-time section champion La Habra for challenging itself even at the risk of losing games, as it did against Orange Lutheran, 21-17. Fortunately, QB Cody Clements -- who injured his knee in the fourth quarter -- looks as if he is going to be OK, but that's a risk with trying to prove yourself. No guts, no glory, right? When your team is loaded with talent, as La Habra's is this season, stepping outside your comfort zone seems to be the proper/manly/ethical thing to do.
5. My expectations are pretty high for Corona Santiago and second-year coach Jeff Steinberg, who has been successful wherever he has gone. That made Dana Hills' 49-20 victory all the more impressive over the Inland Empire team. Trent Mason completed 17 of 23 for 257 yards and two touchdowns, and carried 14 times for 153 and four touchdowns. I expected the game to be a lot closer. Nice.