One of the most memorable games of 2009 was the Week 1 intersectional clash between Norco and Crenshaw of Los Angeles.
Are you ready for Round 2?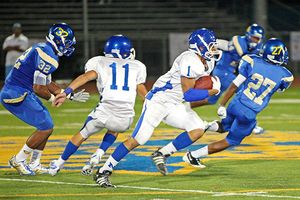 Courtesy of Rob Helfman
Norco running back Kelsey Young had 245 yards against Crenshaw last season.
If the rematch Friday night is anything like the original meeting, fans should plan to arrive early and stay until the final horn.
A year ago, Crenshaw stopped the visiting Cougars on a crucial fourth down late in the fourth quarter and then held on for a 47-44 victory.
This time, the backdrop switches from L.A. to the Inland Empire, but many of the characters return.
Norco running back Kelsey Young, who accounted for 245 of his team's 487 rushing yards last season, is back – having accepted a scholarship offer from Stanford in the meantime.
So is Crenshaw running back/defensive back De'Anthony Thomas, considered one of the top players in the state and a game-changer. He rushed for two touchdowns to give the Cougars a 14-0 lead in the CIF-State Bowl Championships Open Division, then was forced from the game because of a sprained ankle. Crenshaw never recovered and lost, 28-14.
Kickoff is set for 8:30 p.m., a tad late for most high school games, but this one's scheduled to be televised live on Prime Ticket.
The "other" game to watch: Oceanside at Temecula Chaparral, Friday, 7 p.m. – The visiting Pirates are the two-time defending Division I state bowl champions, but are coming off a humbling 31-7 loss to Servite that ended their 39-game winning streak. Chaparral is coming in fresh and with a bone to pick after getting edged out by Oceanside for the state bowl berth last December.
Upset Special? Colton at Ontario Chaffey, Friday, 7 p.m.– Chaffey ran all over Alta Loma in a 35-21- victory Friday night, but the holes are sure to get smaller against the Yellowjackets, led by perhaps the best linebacker duo in the Inland Empire in Devan Hussey and Rodney Hardrick. If Julian Bernardino and Carnell Spencer can move the chains and break a couple long ones, the Tigers have a chance.
Upset Special 2? Chino Hills at Corona Santiago, Friday, 7 p.m. – Chino Hills must be driving the computer nuts over at CalPreps.com. Twice the Huskies lost last season when they were predicted to win. In their season opener last weekend against Lakewood Mayfair, they were tabulated to win, 44-0. Instead, Chino Hills only won by 14. The computer's prediction this week: Chino Hills 34, Santiago 19. Mine: Santiago 28, Chino Hills 24.