Blair Angulo/For ESPNLA.com
It doesn't seem as if Lakewood's football team has many weaknesses.
Some observations from Week 1 in the South Los Angeles region.
1. There may not be a better defensive team than Lakewood. Coach Thadd MacNeal is thrilled with the Lancers' run defense -- and for good reason. Lakewood was downright stingy at St. John Bosco on Friday, allowing the only score on a reverse wideout pass at the end of the first half. If there's a cause for concern, it would be the special teams, which missed a pair of easy field-goal attempts and muffed a punt.
2. It's a shame we're not headed for an undefeated showdown between Moore League rivals Long Beach Poly and Lakewood. The Jackrabbits suffered an ugly 32-7 loss to visiting Ventura St. Bonaventure on Friday. Perhaps the Seraphs are as good as the score indicates, or maybe Poly's passing attack isn't as refined as originally thought.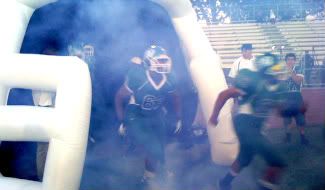 Blair Angulo/For ESPNLA.com
Dorsey came out firing on Thursday.
3. Don't be too alarmed by Crenshaw's 0-2 start. The defending state runner-up Cougars are good, having lost both road games by a combined nine points. But good may not be good enough -- they needed to be great to get back to the state title game.
4. Watch out for Dorsey if Joseph Gray gets into a rhythm. The senior quarterback started hot, cooled off, then turned it on in a win Thursday over Woodland Hills Taft. A deep corps of receivers -- led by speedster Marvin Hall -- gives Gray enough options to spread it around in Dorsey's no-huddle offense.
5. Venice running back Teondray Caldwell is opening some eyes early. Click here for a quick feature on what he's done so far, including a seven-touchdown performance against Harvard-Westlake.