CERRITOS – Ivory Sully, the former NFL Ram who coaches linebackers for No. 1 Servite, walked over to head coach Troy Thomas 45 minutes before the Friars took on No. 15 La Habra in a much-anticipated game between the North Orange County schools.
Thomas asked Sully how the warmups went. Sully leaned into Thomas. "The most focused they've ever been."
No kidding. The defense held La Habra to seven yards on its first possession, and then the offense went 65 yards in seven plays that required only 1 minute 55 seconds. It was a textbook drive, no frills, just seven points on its way to a 23-0 victory at Cerritos College.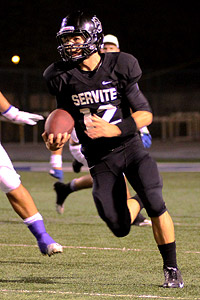 Laurence Martinez
Servite quarterback Cody Pittman, a junior, scrambles for yards in Servite's 23-0 victory over La Habra.
There was plenty of game to play, but last season's Pac-5 champion had delivered a message in the first five minutes.
Quarterback Cody Pittman, whose task is replacing the graduated Cody Fajardo, swung a pass to Malik Felton, whose task is replacing Chris Nicholls. It was a safe play, three yards. Then Sean DeRosa gained eight, Pittman ran for 17, and another short pass to Felton gained 16. Pittman rushed for 12, DeRosa gained eight and then kept churning into the line until he picked up the yard necessary for the score.
Pittman finished the game with nine carries for 56 yards and completed 14 of 16 passes for 96 yards and one interception. The defense, led by Matt Inman, limited La Habra to 148 yards, 37 of which came on one big pass late in the fourth quarter.
La Habra did not play with its Washington State-bound quarterback Cody Clements because of a lingering knee injury, but it used playmaking receiver Brett Bartolone as a quarterback in the wildcat formation.
La Habra's second and third drives were three-and-outs, but the third might have been most telling for the Highlanders, a three-time Southern Section champion. They had fourth down and four inches to go from their own 43-yard line – and punted. Servite's defense had already earned that kind of respect.
La Habra eventually found its way downfield in the first half against Servite's defense only to miss a 44-yard field goal as time expired on the first half. Trailing 14-0 courtesy of Pittman's 27-yard pass Jon Ramos, Servite drove from its two to the 11 before consuming almost nine minutes of the clock and having Connor Loftus kick a 28-yard field goal. Two plays later, Butch Pauu intercepted a shovel pass and took it in from 13 yards to open the fourth quarter.
It was a strong statement by Pauu and the defense, but the statement had already been made much earlier.