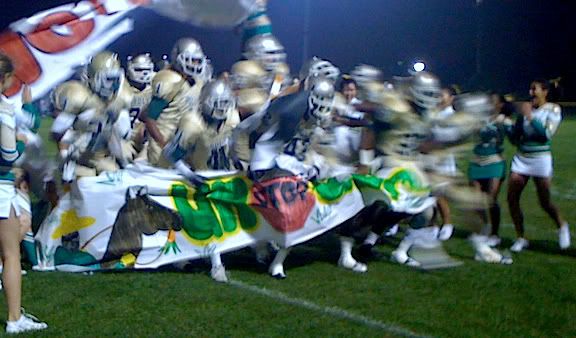 Blair Angulo/For ESPNLA.com
Long Beach Poly brought out the defense in the second half against Narbonne.
1. The 32 points St. Bonaventure put up against Long Beach Poly in Week 1 were even more impressive considering how impressive the Jackrabbits looked in the second half Friday. After scoring 20 points in the first half, it looked as if Narbonne would at least duplicate what the Seraphs did. But Poly played shutdown D the rest of the way, registering a safety and stopping a potential game-tying drive in the final minutes.
2. There might be a quarterback controversy brewing at Poly. Coach Raul Lara pulled starter Chaiyse Hales in the second quarter and put in his son Emmanuel Lara. Hales returned in the second half, but not before a handful of disgruntled fans let the elder Lara hear it.
3. Lakewood players are guaranteed their share of calcium for the next year after beating Mayfair, 24-14, in the annual battle for the Milk Bucket. It didn't come easy, though. The Lancers were unable to contain Mayfair's Dominique Small (160 yards rushing), but did enough to win. Tight end Dupree Jordan-Roberts has emerged as a legitimate weapon for quarterback Tyler Schultz. The duo hooked up for a 53-yard touchdown to open the scoring.
4. A lack of execution on special teams cost Narbonne on Friday night. Among the mistakes: surrendering a touchdown on a kickoff return, missing an extra point before halftime and a go-ahead field goal in the third quarter. The Gauchos wound up losing by three. Given the difficulties, it's clear to see why coach Manual Douglas elected not to attempt a game-tying 47-yarder in the final minute of play.
5. Perhaps Carson hasn't exactly arrived. The Colts, who pulled off a then-shocking 14-10 upset of Mater Dei in the opener, lost 56-14 Friday to Santa Margarita. It's looking more and more as if the opening win played out the way it should have. Mater Dei fell 44-13 at Corona Centennial.