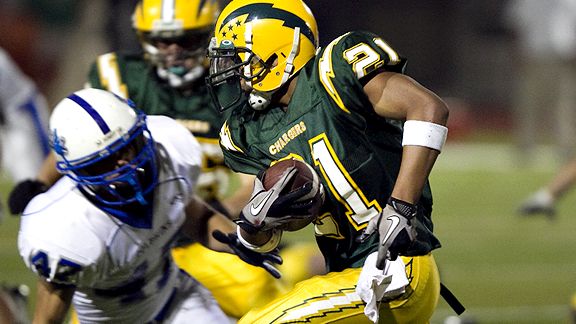 Courtesy of Tony Tribolet
With his performance against Dana Hills in a 27-21 victory, it appears Edison is in good hands with running back Nicholas Masaniai.
Some observations from the third weekend of high school sports in Orange County.
1. It's hard to imagine how good Edison would have been with Davion Orphey, the dynamic senior running back/defensive back who was ruled academically ineligible. Coach Dave White said Orphey's absence was probably more significant on defense than offense. However, we saw on Thursday against Dana Hills his replacement, Nicholas Masaniai, who carried 20 times for 134 yards. He's not as flashy and he's not going to take some plays to the house that Orphey would have, but he puts the Chargers in good hands. He had five carries of more than 10 yards: 24, 14, 18, 11 (for a touchdown) and 31 yards, and he's going to keep defenses honest as junior quarterback Chase Favreau develops.
2. Buena Park and Los Alamitos don't seem to have a lot in common except for 3-0 records. Los Alamitos is a well-respected program that contends for the Sunset League title every year, has one of the most dynamic players in the Southern Section in tailback Nick Richardson, and is coached by Orange County's all-time leader in victories, John Barnes. Buena Park has been a program that has not done much of anything over the past decade, and its three-game winning streak is much-needed good news for a program that had won only three games the last three years. Yet relative to its own strength, Buena Park -- which is badly in need of victories -- has actually played a tougher schedule this season than Los Alamitos. Based on the statistical ratings of team strength at Calpreps.com, Buena Park – with a rating of minus-2.8, has played teams that are 17.5, 27.2 and 12.3 points lower than the Coyotes; Los Alamitos has played teams that are 20.9, 25.6 and 29.5 points lower than the Griffins.
3. Who would have thought that losing games would make you more interesting, but Mater Dei's 44-13 loss to Corona Centennial has actually done that for the Monarchs. They have yet to play a team from Orange County but will get their first chance Friday against San Clemente. Granted, it would be a big game if Mater Dei were 2-0 and SC was 4-0, but the fact that Mater Dei is 0-2 really puts the pressure on both teams: The Monarchs need to start making plays in the worst way, and San Clemente needs to prove they can beat a perennial power – even one that's on the ropes. The truth is that Mater Dei still might be one of the better teams in Orange County but it hasn't proven it yet. A victory over San Clemente would be a good start.
4. Two weeks ago after Santa Margarita lost to Tesoro, I turned to a colleague and said, "I can't believe Santa Margarita lost this game." Turnovers had done the deed, wiping out a two-touchdown lead in the second half. It was evident the Eagles could be good once they eliminated those mistakes. They showed just how good when they completely manhandled Carson, 56-14. After victories over Mater Dei and A.B. Miller, and with a game lined up against Mission Viejo in two weeks, the Colts had aspirations of going to a State Bowl. Fat chance now. As for Santa Margarita? The fact it won behind QB Adam Young and RB Ryan Wolpin is not surprising. The fact it won by 42 points is stunning.
5. Tustin rushed for 473 yards against Orange Lutheran. Tyler Siudzinski accounted for 170 and Diego Mendoza 147 in a 46-29 victory. Wow. That's why teams don't want to schedule Tustin and its double-wing offense: It's difficult to prepare for and the Tillers are pretty adept at running it. Apart from the score, this was not necessarily a shock. Tustin is almost as much a thorn in the side of the Lancers as Servite is. In 2005, the Tillers scored a 42-23 upset of second-seeded Lutheran in the first round of the Division VI playoffs (Lutheran won the Pac-5 title the following season); Lutheran scored a narrow 10-0 victory in 2008 and a 46-20 victory in 2009.