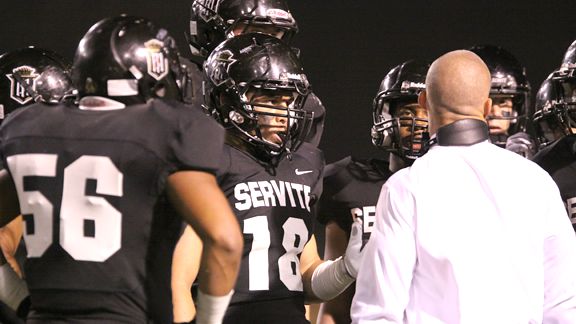 Courtesy of Laurence Martinez
Butch Pauu (18) and the Servite defense listen to coach and defensive coordinator Troy Thomas during the Friars' 23-0 victory over La Habra. Pauu returned an interception for a touchdown for the Friars, whose first-team defense has yet to allow a point.
The last time Edison and Servite faced each other, it was in a downpour with the Pac-5 title on the line, and Servite emerged from the marsh at Angel Stadium with a 16-6 victory over the previously unbeaten Chargers. The next week, Servite won the Division II State Bowl championship.
It was a different story when the teams met during the regular season on a dry field. Edison scored a 23-9 victory and the Servite offense failed to score a touchdown. Don't expect that to happen this year.
Servite (3-0), ranked No. 1 by ESPNLA, and No. 13 Edison (3-0) continue their annual rivalry on Friday at Cerritos College.
Edison has only one starter back on offense and on defense, and only one of those – defensive end Charles Burks – is playing the same position. But Edison looks like it's on the cusp of being very good with junior quarterback Chase Favreau. He's got a great arm and is a good runner, and top-ranked Servite knows well that's a potent combination – the Friars utilized Cody Fajardo that way last season and Cody Pittman that way this season.
Edison comes into the game as Orange County's third-leading scoring offense with 44.7 points, and Servite enters as the second-leading defense (4.7 points). That Chargers offense hasn't seen anything like Servite's defense yet. Then again, Servite's defense hasn't seen anything like Edison's offense.
"They're just mauling people, they're so much more physical than everyone they've played," Edison coach Dave White said. "Every weakness we have, we're going to find out on Friday.
"They don't turn the ball over much and they don't have defensive breakdowns. They're not blowing coverages. They're really disciplined and well coached."
White is also concerned about the big play on offense, but Servite has also been getting big plays from its defense. Last week linebacker Butch Pauu intercepted a shovel pass and returned it for a touchdown in the highly-anticipated game against La Habra, a 23-0 victory. In the first week, Jody Thomas picked up a fumble and returned it for a touchdown in a highly-anticipated game against Oceanside, the defending Division I State Bowl champion, in a 31-7 victory.
Servite's first team defense has yet to give up a touchdown. That streak will probably come to an end, but that might not be enough.
Said White: "We've got our hands full."