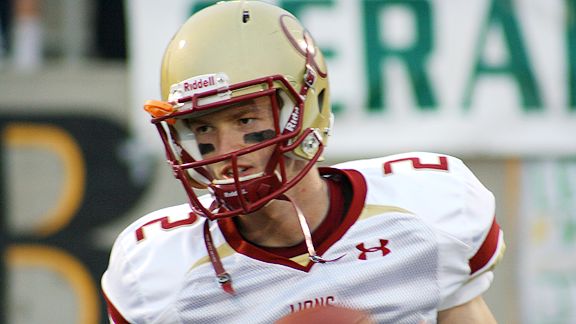 Tim Haddock/Special to ESPNLA.com
An injured shoulder has put Oaks Christian quarterback Trevor Gretzky's status for Friday's game vs. Westlake in doubt.
Will Oaks Christian quarterback Trevor Gretzky play or not?
Ask Oaks Christian coach Bill Redell, and he says Gretzky is out for the much-anticipated Marmonte League game against Westlake, the No. 2 team in the ESPNLA.com poll, at Oaks Christian High School.
But Westlake coach Jim Benkert is expecting Gretzky to play. Maybe not start, but Benkert wouldn't be surprised if Gretzky takes a couple of snaps.
"We're preparing for both of those guys," Benkert said. "We don't know what's true. That next kid, he did a nice job. We don't know what to expect."
That next kid would be Richie Harrington. All he did was rally Oaks Christian, the 12th-ranked team in the ESPNLA.com poll, in the second half for a come-from-behind, 33-32, overtime win over St. Bonaventure two weeks ago after Gretzky was benched.
Redell said Gretzky has an injured shoulder. Gretzky had an MRI exam on his shoulder this week and it was recommended that Gretzky take some time off to let it heal.
"It happened in the summer and just got worse," Redell said. "It doesn't need surgery, but it does need rest. He'll be out two or three weeks."
Both teams are 2-0 in Marmonte League play. In addition to beating St. Bonaventure, Oaks Christian rolled over Calabasas, 47-6. Gretzky and Harrington played in the game against Calabasas. Harrington was 9-of-15 for 111 yards and two touchdowns. Gretzky was 4-of-6 for 66 yards and one touchdown.
Westlake beat Thousand Oaks, 31-3, in the Marmonte League opener, and followed with a 52-0 win over Royal last week.
Westlake quarterback Nick Isham was 5-of-6 for 134 yards and three touchdowns in the game against Royal. The starters on the Westlake offense haven't seen that much playing time in the first three games. Benkert said the starters have run 32 plays the entire season. He's been sitting his starters at halftime because Westlake has built huge first-half leads in the first three games.
"We're still in first-game mode," Benkert said.
Oaks Christian should provide Westlake its first challenge of the season.
"It's a really great matchup against two really great football teams," Benkert said. "We're looking forward to playing a whole game."
Redell said the game against Westlake is one of the biggest in school history.
"It's a big game for our community, for our school," Redell said. "We're a good team. We'll have to play our best game to beat them."
Oaks Christian will have all its players for this one. Wide receiver Jordan Payton and defensive end Dillon Van Der Wal are expected to return to the field after sitting out the past two games because of injuries. Payton, who's headed to USC next season, sprained his ankle in practice two weeks ago. Van Der Wal, who visited the University of Minnesota two weeks ago, injured his leg in the season opener against Alemany.
Benkert said a talented Oaks Christian team only gets better with the return of Payton and Van Der Wal.
"They're a good football team," Benkert said. "They got weapons everywhere."
Other games:
No. 16 Moorpark (2-1) vs. No. 13 St. Bonaventure (2-1), Friday, 7 p.m., at Ventura Buena High
Moorpark is in a three-way tie for first place in the Marmonte League standings with a 2-0 record. Oaks Christian and Westlake are also 2-0 and those two teams play each other. St. Bonaventure is 1-1 in Marmonte League play. Imagine the mess it would create if Oaks Christian and St. Bonaventure win their games.
No. 23 Crespi (3-0) vs. No. 7 Vista Murrieta (3-0), Friday, 7 p.m., at Vista Murrieta High
Crespi is coming off a 52-6 blowout over Chula Vista. Vista Murrieta is No. 7 in the ESPNLA.com rankings. It should be a good one to watch.
Hart (3-1) vs. Lake Balboa Birmingham (1-3), Friday, 7:30 p.m. at College of the Canyons
Hart is coming off a 44-3 win over Arroyo. Birmingham lost to Sherman Oaks Notre Dame, 38-6. Hart should have little trouble beating Birmingham. Which raises the question: How did Hart lose to Palmdale?
St. Francis (3-0) vs. West Ranch (2-2), Friday, 7 p.m. at Valencia High School
St. Francis is undefeated and coming off a 31-13 win over Venice. West Ranch has been hard to figure out. After two impressive wins, West Ranch lost to Silverado, 24-20, last week.