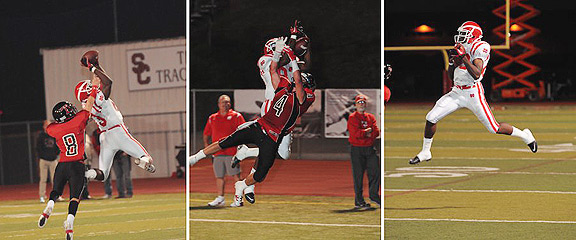 Luis Collazo
Mater Dei receiver Victor Blackwell was incredible in a win over San Clemente last week.
The magic of the three stripes returned to the Mater Dei sidelines a week ago, but if it's a command performance that fans want, it's probably going to take an even greater effort than last week by Monarchs players .
Its annual nonleague game against No. 15 Edison (3-1) tonight at Orange Coast College provides another test for Mater Dei (1-2). It took a monumental step forward last week in a 42-14 upset of previously unbeaten San Clemente in which receiver Victor Blackwell was amazing. He had six catches for 183 yards and two touchdowns, he was faster than a speeding locomotive and he was leaping ... well, just take a look at the photos above. All receivers, if not all players, who turn in description-defying performances this season should henceforth be called Blackwellian. One of the keys this week for the Monarchs is to give the USC-bound Blackwell the opportunity to earn his adjective.
Apart from getting the ball into Blackwell's hands, Mater Dei must also play with the emotion it did a week ago. It all goes back to the Corona Centennial game, a 44-13 loss. Even though Centennial could embarrass a lot of teams by such a score, Mater Dei coach Bruce Rollinson called it "a rude wakeup call and reality check as to where our mental preparation was. I felt that mentally we weren't dialed into the game. Physically we were overmatched. If you bring some emotion and some fight – we should have represented the program better."
So that's what Edison has to be wary of. A fired up Monarchs team that is playing for the pride of its past against a very real threat to its present. That cornered animal that San Clemente faced a week ago still has its teeth.
That doesn't mean Edison doesn't come loaded for bear. Defensive linemen Charles Burks and Robert Mase – playing against Mater Dei's work-in-progress offensive line – are a very real threat to Mater Dei QB Max Wittek, and that can impact Blackwell. The Monarchs can't be one-dimensional, either. Corbin Anderson (meniscus) is still out, so RB Josh Valdivia must still pick up the yards to keep Edison's pass rush honest.
Edison QB Chase Favreau, who transferred from Mater Dei, is a threat to run the ball as well as pass, but he suffered a sprained ankle last week against Servite. It's incumbent upon the Mater Dei linebackers – especially outside backers Ricky Ortiz and Chris Urbina – to play an outstanding game and complement inside guys Miguel Sandoval and Joey Schmidt if it is to win its second in a row and prove it's ready for the rigors of the Trinity League.
Which brings up an obvious question. With a little bit of momentum from last week's impressive victory, wouldn't Rollinson rather play someone a little softer than Edison?
"No, not really, because what I'm looking down the barrel at – that Trinity League is going to be a five-week march from hell for everybody," Rollinson said. "I need this kind of competition, I need the experience of high intensity football. To me, this is the perfect game."