GARDENA -- Marqise Lee spread his arms wide, slowly swaying his body from one side to the other as he glided toward the Serra sideline.
Four times he did it and four times he was interrupted mid-flight, elated teammates getting to him before he reached the bench. And with a never-ending stream of airplanes descending in the background all game long, Lee's gesture was only appropriate.
Lee caught four touchdown passes and had 184 yards receiving Friday night, helping No. 5 Serra fly past visiting Narbonne, 48-22.
"It was my first time doing it," Lee said of his celebration method. "I was so hyped for this game. We don't get to play against a City Section team often."
Lee made it count -- all but one of his grabs went for scores -- and exceeded even his own expectations.
"My mindset was to come out and get three (touchdowns) because Narbonne was doing some talking," Lee said.
His output became all the more important when fellow receiver George Farmer suffered a hip injury early. Farmer limped his way through the remainder of the first half and was held out once the Cavaliers raced out to a 34-0 halftime lead.
Still, the highly touted Farmer looked like a man among boys when he was in there. The senior had four catches for 33 yards and electrified the crowd with a 65-yard touchdown on a punt return.
Serra quarterback Conner Preston, committed to Southern Methodist, threw for 247 yards on 11 of 16 passing.
"Conner makes real good decisions," Serra coach Scott Altenberg said. "Tonight was one of his best performances. He's been great. The thing people don't understand is how well he calls the game. He makes reads at the line of scrimmage."
Preston recognized Lee had one-on-one coverage often and went to him. Lee -- who is considering California, Florida, Oregon, Miami (Fla.) and USC -- had touchdown receptions of 35, 80, 37 and 25 yards.
"Marqise is a fantastic football player," Altenberg said. "His best football is ahead of him."
Mix in the 100 all-purpose yards of tailback Shaquille Richard and you've got a smooth-running offense. Add an athletic, physical defense that sacked Narbonne quarterback Troy Williams five times and held Noel Rankins to five yards rushing, and you've got a squad that has a realistic shot at a state title.
"Getting out in front against these guys was real important," Altenberg said. "I thought, for the most part, we played a real great game."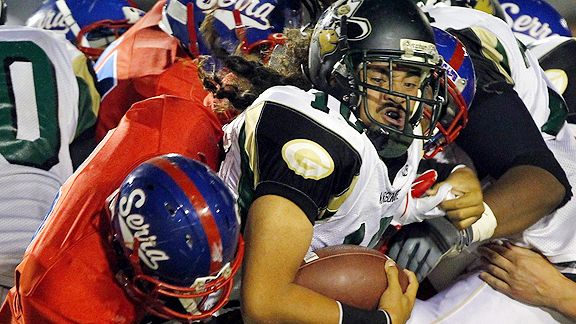 Alex Gallardo/Special to ESPNLA.com
Serra's defense stacks up a Narbonne running back during the Cavaliers' 48-22 win Friday.