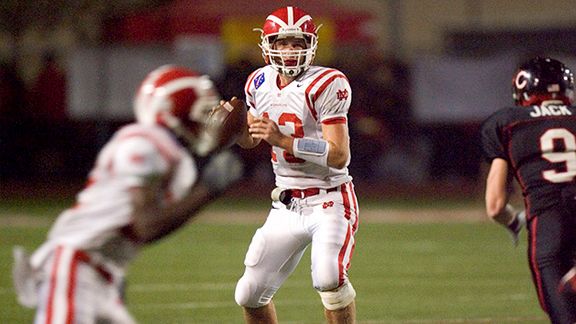 Larry Goren/Special to ESPNLA.com
Max Wittek says he makes it a point to never get too high after something good happens or too low after something bad.
SANTA ANA -- Some football players might shy away from the unenviable task of having to live up to the lofty expectations that come along with being anointed as the starting quarterback at Mater Dei High. Not Max Wittek. He has embraced the role.
The fact he's done so without reservation is all the more impressive considering the list of his predecessors, which includes a pair of former Heisman Trophy winners, no less. Most would agree that it takes a special individual to not be overly intimidated about having his name constantly compared to such a storied past of signal callers.
Apparently, Wittek has the makeup to get the job done and doing so in each of his two years on the job thus far is a good indication of that. Not surprisingly, the quarterback tradition is currently alive and well at Mater Dei and the 6-foot-4, 215-pound senior is largely responsible for making the others who came before him proud in that respect.
"Everyone likes to compare Max to the great guys that we've had play here, so really, all the talk is nothing new,'' Monarchs coach Bruce Rollinson said. "Stuff like that has been going on for years and years now and will continue happening in the future.''
The cast of quarterback characters Rollinson refers to includes, most recently, Matt Leinart, Colt Brennan and Matt Barkley. Each made his mark while slinging the ball around for Mater Dei over the course of the last decade, or so. During the early 1990s, Billy Blanton called the plays from underneath center for a while. John Huarte started it all when he was at the helm of the Monarchs' offense back in the mid 1960s.
Huarte and Leinart ended up winning collegiate football's most prized possession, the Heisman Trophy, in 1964 and 2004, respectively. Brennan was finalist for the honor in 2007. If Wittek needs some inspiration, he doesn't have to look very far to find it. One glance at the illustrious list of alumni figures to serve as plenty of motivation.
"I can tell you this much, it takes a special kind of person to play quarterback for us; it's a demanding position,'' Rollinson said. "It's one of those full-time job type of things. You have to be a student first, football player second and there's not much time for anything else. It's a total and complete commitment, always has been, always will be.
"There's certain kids that can't do what we ask, it's plain and simple. They'd rather ride skateboards, go to dances or get home from school and watch Oprah Winfrey. With Max, he's different. He has drive, the initiative, just like Leinart and Barkley did when they were around. Max has passion. He's dedicated, a perfect fit to run our system.''
Mater Dei got off to a surprisingly slow start this season with losses in back-to-back games. But it appears as if Wittek has turned things around and is running the system to perfection again after a Sept. 24 victory over San Clemente and last week's 27-7 win against Huntington Beach Edison, which was No. 15 in ESPNLosAngeles.com's Top 25 rankings.
All of a sudden, Wittek & Co. have some much-needed momentum heading into Friday night's game against Gardena at Santa Ana Stadium. The timing couldn't be better for the Monarchs (3-2), who are poised to make an appearance in our Southland poll before Trinity League play begins in two weeks against Bellflower St. John Bosco.
"In the beginning, I didn't think much about being the starting quarterback at Mater Dei. Then it hit me, I realized how big of an honor it is,'' Wittek said. "It's amazing when you think about all the tradition, all of the great, great players that have played here.
"There's a lot of expectations to do well, it's my job to try my best to uphold the legacy. I don't feel pressured though. Feeding into all of the hype isn't going to get me anywhere, I know that. If there's one thing I've learned, that I always remember, it's you must have a level head. Getting too high, or too low, is never a good thing. I'm trying to do what I do, that's it. I want to enjoy this experience as much as possible, that's important.''
The fact Wittek is doing so well this season shouldn't come as a major surprise given his success as a junior. He completed more than 59 percent of his passes for 2,126 yards and 15 touchdowns. And make no mistake, when things broke down in the pocket, Wittek didn't hesitate to take off running. On the ground, he averaged four yards per carry.
Little has changed this year, Wittek continues to put in work. And as a result, evaluators everywhere, recruiting services and NCAA Division I coaches alike, seem to be under the impression that Wittek could be the next big thing to come out of Mater Dei. All signs point to him possessing the tools necessary to make an impact at the next level.
ESPNU ranks Wittek as the No. 9 quarterback in the country. It's worth mentioning that no other California player at his position has cracked the nation's top 20. Apparently, USC was so enamored with what it has seen from him that the hometown Trojans put a scholarship offer on the table, to which Wittek verbally committed in late April.
"Max is one of the best leaders I've ever played with,'' said teammate Victor Blackwell, who is one of the country's top receivers and will be joining Wittek at USC. "He makes all the throws, short, intermediate, the deep ball. He's one of those guys who puts passes where they need to be, all of the time, and that makes my job a whole lot easier.''
The similarities between Wittek and the pass-throwing hierarchy at Mater Dei are many, some might say staggering. They extend well beyond putting on the uniform and helmet and taking charge of things inside the huddle, under the continual direction of Monarchs offensive coordinator Dave Money, of course.
Wittek has worked extensively with quarterback guru Steve Clarkson, often times while he mentored the likes of Leinart and Barkley during their respective prep careers. Simply having the opportunity to be around such gifted minds has done wonders for Wittek's development and surely aided his confidence.
"I've worked with Max for about four years now and he's made big stride after big stride, there's plenty to like about his game,'' Clarkson said. "You have to give the coaching staff at Mater Dei credit, they've prepared him well. But that was to be expected when you think about all the quarterback success that program has had in the past. With Max, there's no sense in re-inventing the wheel, he gets it, he understands the position.
"There's been times when I've had Max out on the field with Leinart and Barkley, all throwing the ball around together. Talk about a competitive practice session, it's an organic thing. Max has learned a lot from those two guys, he's like a sponge when it comes to soaking up information. Players like that are a pleasure to work with.
"In terms of his future, a road map has already been laid out for Max. All he has to do is continue working on his craft, which I'm sure he will. Throwing the ball comes naturally to him. He's a bona fide college star in the making, far more advanced than most kids his age. It wouldn't surprise me if he ended up playing on Sundays down the road.''
By Sundays, Clarkson is referring to a potential NFL career. First things first though, there's no need to think too far ahead. In fact, Wittek would be well served to remain focused on the task at hand. Shouldering the heavy burden of being the latest in a long line of main men at Mater Dei is enough responsibility.
Beyond that, it's anyone's guess as to what the future holds.
One thing is certain: Wittek is heading in the right direction.
"Staying humble is key, I haven't accomplished anything yet,'' Wittek said. "If I can accomplish half the things the other guys did before me, I'd be lucky. I want to keep the tradition, the legacy, going.''