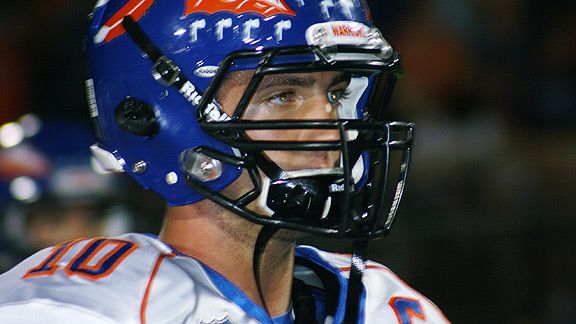 Tim Haddock/Special to ESPNLA.com
Quarterback Nick Isham helped keep Westlake undefeated after a victory over Oaks Christian last week.
Crespi and Thousand Oaks moved up in the poll. St. Francis and Oaks Christian dropped. Canyon and Loyola are knocking on the top 1o door. No new teams in the LA North top 10, but lots of movement.
1. (1) Westlake (4-0)
Westlake faced its toughest test to date and beat Oaks Christian by 19 points. The game was a lot closer than the final score indicated. But Westlake never trailed and responded each time Oaks Christian made it close. Next up for Westlake is Simi Valley.
2. (2) Valencia (4-0)
Running back Steven Manfro scored five more touchdowns in his team's 63-28 win over Santa Monica. It was most points Valencia has scored all season. And that's something for a team that came into the game against Santa Monica averaging 47 points per game. Next up for Valencia is Loyola.
3. (3) Alemany (5-0)
Alemany posted another impressive victory with a 49-17 win over Harvard-Westlake. The undefeated Indians next play Beverly Hills, which is coming off its first loss of the season to Canyon.
4. (6) Crespi (4-1)
Quarterback Kenny Stenhouse is having a season that will be talked about for years to come. He's set the school record for passing yards twice in four games. Crespi has two impressive wins, against Clovis West and Vista Murrieta, and a heartbreaking loss to Dominguez. Next up for Crespi is Woodland Hills Taft.
5. (7) St. Bonaventure (3-1)
St. Bonaventure narrowly escaped with a 28-25 win over Moorpark. The Seraphs could easily be 4-0. They could also easily be 2-2. Next up for Moorpark is Newbury Park.
6. (9) Thousand Oaks (3-1)
It doesn't seem to matter who's playing quarterback for Thousand Oaks. Avondre Bollar threw for 242 yards and four touchdowns in his team's 48-0 win over Royal. Next up for Thousand Oaks is Agoura.
7. (4) Moorpark (2-2)
Moorpark suffered its second tough loss of the season. After taking the lead in the fourth quarter against St. Bonaventure on Friday night, Moorpark gave up the winning touchdown with a little over two minutes left in the game. Next up for Moorpark is Calabasas.
8. (5) Oaks Christian (2-2)
Receiver Blair Holliday caught two touchdown passes in his team's 31-12 loss to Westlake. He has five touchdown catches in the past two games. Next up for Oaks Christian is Royal.
9. (10) Chaminade (4-0)
Back-up quarterback Logan Scott threw two touchdown passes in the second half of his team's 29-10 win over Mira Costa. The Chaminade defense forced five turnovers, three interceptions and two fumble recoveries.
10. (8) St. Francis (3-1)
Quarterback Brett Nelson threw for 406 yards and two touchdowns in his team's 35-34 loss to West Ranch. St. Francis had a chance to win the game in the fourth quarter, but failed to convert on a 2-point conversion. Next up for St. Francis is Paso Robles.