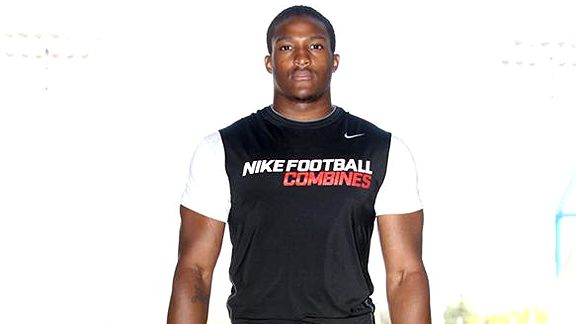 Tom Hauck
Todd Handley of Riverside King has proved to be one of the most elusive ball carriers around.
Few athletes can claim a 44-inch vertical leap. Those that do are usually found on the basketball court, or near the high jump pit.
LeBron James reportedly has a 44-inch vertical leap, so did Michael Jordan.
Kobe Bryant? He comes in a bit lower at 38.
Todd Handley, a 5-foot-8 senior running back for Riverside King, hit that mark in April at the Nike combine at USC, placing him among the best leapers in the nation in SPARQ testing.
But the three-year starter is just as impressive moving horizontal. He clocked a school-record 10.98 seconds in the 100 meters during last spring's track and field season, and went 4.54 seconds in the 40-yard dash at the Nike combine.
It's no wonder that Handley has proved to be one of the more elusive ball carriers in the Inland Empire, totaling 552 rushing yards and seven touchdowns through four games this season. As a junior, he ran for 1,343 yards and scored 15 touchdowns in 10 games.
He had 206 rushing yards and a touchdown last Friday in a one-sided loss to Corona Centennial, the top-ranked team in the Inland Empire.
On Thursday night, he'll be counted on to carry the load against visiting Corona Santiago, a team that's ranked No. 5 in the I.E. but has shown a weakness on defense, allowing an average of 28 points a game.
Still without a scholarship offer, you can bet Handley will be giving it his all against the Sharks.
Moreno Valley Canyon Springs girls' basketball player Tear'a Laudermill has committed to Nebraska, her club program director announced earlier this week.
Laudermill is a 5-9 point guard, averaged 17 points and 4.7 assists last season while leading the Cougars to the Southern California Regional Division I semifinals.
Nebraska advanced to the women's Final Four last season.