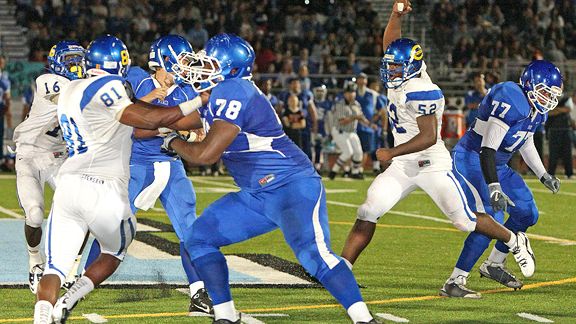 Courtesy of Rob Helfman
Norco lineman Brent Walker (78) has been a key to the Cougars' success on the ground this season.
In just its fourth varsity season, Eastvale Roosevelt has quickly become Norco's rival.
Two years ago, Roosevelt scored the game's first 21 points and held on to upset Norco, 21-13, in their first Big VIII League meeting. A year ago, the Cougars stopped Roosevelt on the two-yard line as time expired to preserve a 30-27 victory.
The matchup moves to Norco High for the first time, where the Cougars have won seven straight games. Norco (4-0) is ranked No. 2 in the Inland Empire by ESPNLA.com, Roosevelt (3-1) is No. 10.
Roosevelt junior quarterback Aaron Crone has been solid this season, throwing eight touchdowns with just one interception. Sam Boyd, a rugged 6-foot-3, 230-pound tight end, has been his favorite target, snaring 14 passes for 340 yards and five touchdowns.
Norco will continue to lean on Stanford-bound running back Kelsey Young, who is regaining his step after playing on a sore ankle the last two weeks. Offensive lineman Brent Walker, who is reportedly leaning toward accepting a UCLA scholarship offer, usually leads the way.
Kickoff is set for 7 p.m.
Three more to see:
Colton (3-1) at San Bernardino Arroyo Valley (2-2), Friday – Arroyo Valley is hoping to get quarterback Michael Yearwood back on the field for this key San Andreas League game. He sat out the first two games waiting for his transfer from Los Angeles University to be approved, then injured his knee in his first offensive series back against Rialto Eisenhower and was forced to sit last week. Before transferring from Arroyo Valley to University last spring, Yearwood accounted for 3,433 total yards and 36 touchdowns last season. ESPNLA.com's pick: Colton 35, Arroyo Valley 24.
Riverside Norte Vista (2-2) at Lake Elsinore Temescal Canyon (2-2), Friday – Get ready for two teams that rely heavily on the run game. Temescal Canyon is led by running back Michael Shepherd, who was handed the ball 48 times last week and totaled 237 yards and two touchdowns in a 28-14 victory against Chula Vista Otay Ranch. Norte Vista running back Ryan Ruiz rushed for 124 yards in 33 carries last week and scored three touchdowns in a 38-35 victory against Hemet West Valley. ESPNLA.com's pick: Temescal Canyon 30, Norte Vista 28.
Ontario (2-2) at Ontario Chaffey (1-4) – Ontario has lost six straight Mt. Baldy League games to Chaffey, but this might be its chance to end that skid in a few years. The Jaguars have already doubled their win total from a year ago. Chaffey has lost four straight games to quality opponents, but still has a formidable offensive line that averages 268 pounds. ESPNLA.com's pick: Chaffey 27, Ontario 16.