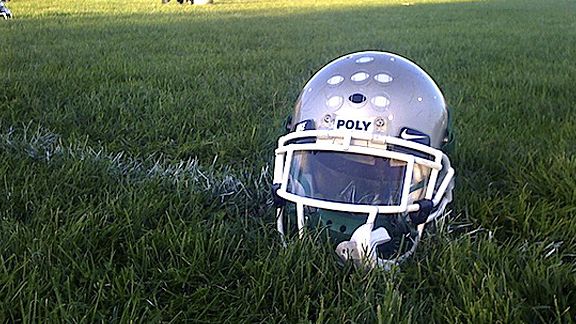 Blair Angulo/Special to ESPNLA.com
Long Beach Poly made the biggest jump this week after its win over Lakewood.
We have a new No. 1 after Lakewood's loss to Long Beach Poly. As a result, the Jackrabbits made the biggest jump this week -- from No. 6 to No. 3. Bishop Amat has an opportunity to make a statement when it hosts Crespi this weekend. The bottom half remained steady for the second straight week.
1. (2) Serra (5-0)
No one needed the extra week of rest more than star wideout George Farmer (hip), who transforms Serra from good to great when he's on the field. Last week: Bye. Next: at St. Francis, Saturday.
2. (3) Bishop Amat (6-0)
The Lancers have a chance to silence their critics in what promises to be a shootout on Friday. Will the doubters persist if it's a close one in La Puente? Last week: Beat Venice, 42-20. Next: vs. Crespi, Friday.
3. (6) Long Beach Poly (4-2)
Apparently, the Jackrabbits needed to see red -- Lakewood red -- in order to wake up. Poly controls its own destiny in the Moore League. Last week: Beat Lakewood, 27-14. Next: vs. Millikan, Oct. 22.
4. (1) Lakewood (5-1)
There may be trouble on the offensive side. The Lancers were unable to figure out a revamped Poly defense Friday, something others had done relatively easy. Last week: Lost to Long Beach Poly, 27-14. Next: vs. Cabrillo, Friday.
5. (4) Crenshaw (3-2)
The Cougars appear to be back in business following the poor start. Crenshaw has outscored its opponents 146-10 in the last three games. Last week: Bye. Next: West Adams Prep, Friday.
6. (5) Dorsey (5-0)
Dorsey survived a close call Friday, but can it continue on course? It may be hard not to eye the looming Nov. 12 meeting against rival Crenshaw. Last week: Beat Mira Mesa, 22-21. Next: vs. Locke, Friday.
7. (7) Compton Dominguez (4-1)
The latest CIF-Southern Section poll has Dominguez as the No. 3 team in the Western Division, behind Serra and West Hills Chaminade. Last week: Bye. Next: at Warren, Friday.
8. (8) West Covina (5-1)
The Bulldogs bulldozed their way to 357 yards rushing in a win Friday -- their fifth straight. West Covina is the top-ranked team in the Southeast Division. Last week: Beat Rowland, 41-17. Next: vs. Los Altos, Oct. 22.
9. (9) St. John Bosco (4-1)
Test No. 1 -- a Week 1 matchup against Lakewood -- was no success. The Braves only hope to take advantage of their latest challenge. Last week: Bye. Next: at Mater Dei, Thursday.
10. (10) Bonita (5-0)
A tough road awaits the Bearcats in the competitive Hacienda League, but they seem to have answered every call so far. Last week: Beat Diamond Bar, 53-20. Next: at Los Altos, Friday.
Dropped out: None.