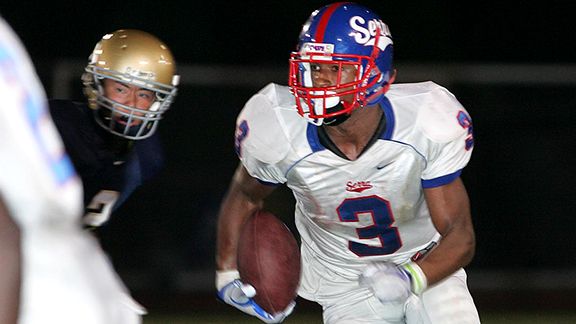 Courtesy of Anthony Watson
Teams have been paying extra attention to Serra's George Farmer this season, but that hasn't stopped the senior from having an impact in every game he plays.
As George Farmer breaks from the huddle at midfield, the Gardena Serra High receiver makes sure to take a quick glance downfield before lining up at his customary position on the outside. Sizing up the competition is necessary. In fact, it's a must considering he is one of the country's premier pass-catchers at the prep level and all too familiar with what awaits next.
A cornerback shadows him, quickly moving directly in front of Farmer before the ball is snapped, mere yards away, apparently hoping to rough him up a bit with some bump-and-run coverage. He notices a linebacker taking a big step to his left, as if to gesture that there's trouble looming ahead. Out of the corner of his eye, Farmer sees a safety rolling over to his side of the football field in what figures to be yet another attempt at double-teaming him over the top.
Following the snap of the ball, a quick stutter step at the line of scrimmage creates separation. A head-and-shoulders fake by Farmer freezes the would-be tackler at the second level. An uncanny burst of speed follows, enabling him to blow by the last line of defense in the secondary.
Nothing stands in between him and the end zone now. Nevertheless, the pass ends up in the hands of a teammate for a first down instead of going to Farmer for a touchdown. It's a scenario that has been played out time and again, thus all the extra attention being paid to the 6-foot-2, 200-plus pound senior.
Surely, Farmer would've liked to be on the receiving end of the completion for six points, similar to the way he has done many times in the past. However, he's smart enough to understand deflecting the spotlight on occasion isn't the worst thing in the world, and ultimately, it's his unselfishness that separates him from his peers.
"People might be surprised to hear a guy like George doesn't demand the ball on each and every play, he's one of the country's best players, most kids with that kind of status tend to have big egos," Serra coach Scott Altenberg said of Farmer, who ESPNU ranks as the nation's No.2 wideout and 13th prospect overall.
"George is different, he's very humble, he's a throwback kind of player in some ways. He knows we have 11 players on offense that are more than capable of contributing on any given Friday night. He gets it, he's unique in that sense. George is one of those guys who makes everyone around him better because he's willing to do the little things on the field that don't always show up in the box score at the end of games. He knows that there's bigger things than just personal statistics.''
Perhaps Altenberg has a valid point. The team-first, individual-accolade persona adopted by Farmer is quite refreshing. But that's not to say his statistics have suffered as a result of opponents being so focused on taking him out of games and forcing his teammates to essentially win things for Serra.
Farmer has given defensive coordinators absolute fits this season. In his first three games, he had 100 or more yards receiving, an average of 31.4 yards per catch, for the Cavaliers (5-0), No. 5 in ESPNLosAngeles.com's most recent Top 25 rankings. All told, Farmer has totaled 16 receptions for 401 yards and five touchdowns this season.
"My goal for this year was to be a leader, if that means I have to sacrifice some things, I'm fine with that, no problem,'' Farmer said. "I know defenses are stepping up against me with different kinds of coverages, that's fine too. I don't have to put up big numbers, we have other guys that can do that stuff.
"Bottom line is, I'm going hard, all of the time. That's how I got to this point. Why stop now? Tomorrow, nothing is promised. I've learned that you can't take things for granted in life. Other people in my position might boast. I let my play on the field do the all of the talking for me. I'm not going to get in someone's face and tell them about how good I am. Staying level-headed and focused is the key.''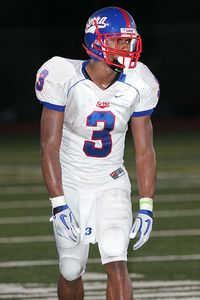 Courtesy of Anthony Watson
George Farmer, above, benefited last season from the presence of teammate Robert Woods, who has moved on to USC. Now, Farmer is providing that same kind of help for his teammates.
With the onus being put on trying to stop Farmer, his production has recently tailed off ever so slightly. It's worth mentioning the strategy employed by opposing coaches has been met with mixed results, for the most part.
Marqise Lee, a talented teammate of Farmer's, has benefited from Farmer drawing multiple players in his direction. Lee had a breakout game against Harbor City Narbonne on Oct. 1 and finished with five receptions for 191 yards and four touchdowns in a 48-22 victory. As for Farmer, he had four catches for 35 yards against the Gauchos. His impact on the game was unmistakable, nonetheless.
"George is a great player, no doubt, he knows how to handle things,'' Lee said. "He runs great routes and can turn a short pass into a long touchdown whenever he wants. George is a factor on every play, that's why teams are all over him. Some other guys might get frustrated, but not him, he's a leader. He's going to get his. Lining up on the other side of him has been fun, I've learned a lot from George.''
Around this time last year, Farmer was in the same position as Lee, playing the attentive understudy role. Farmer watched as Robert Woods commanded the national spotlight as one of the country's top prospects and he was the recipient of additional room on the field to work with while all eyes were on Woods.
As a result, Farmer finished with 41 receptions for 891 yards as a junior, to go along with 17 touchdowns. Woods was no slouch and ended up with 66 catches for 1,112 yards and 18 scores of his own. Together, they led Serra to a CIF Division III State Championship with a 24-20 victory over Kentfield Marin Catholic.
Woods is long gone these days, having moved onto the next level where he has been a consistent contributor at nearby USC this season. As for Farmer, all signs point to him being more than capable of filling the void left behind.
"It's crazy to think that Robert is in college and we haven't missed a beat with George around,'' said Connor Preston, a two-year starter at quarterback for the Cavaliers. "We didn't have to rebuild, we reloaded and George is a big reason why the transition has been so easy. Honestly, he brings a lot to the table.
"George has a combination of size and speed that's tough to deal with. It doesn't matter if he's facing a double or a triple team and not getting the ball, he still finds a way to make an impact. Talk about being unselfish. When teams are focused on stopping one player, that's the ultimate sign of respect. Just like Robert, I'm going to be sitting back and watching George play football on Saturdays.''
The future is indeed bright, although Farmer is far too humble to admit as much. Oddly enough, braggadocio isn't in his makeup.
Numerous top-notch NCAA Division I programs have offered him a scholarship, namely Alabama, Florida and Oklahoma. UCLA and USC are also in the mix. The interest is warranted given the fact he possesses a 39-inch vertical, bench presses 315 pounds and has been timed in the sub 4.4 range in the 40-yard dash.
Make no mistake, college is the last thing on his mind.
Farmer isn't an individual who puts his personal achievements ahead of team goals. He's focused on the task at hand which is Serra's game Saturday night at La Canada St. Francis in a Mission League opener. Beyond that, a successful defense of the Cavaliers state title figures to be next order of business.
"I'm not a very vocal guy, for me, it's more about action," Farmer said. "Really, it all comes down to winning, that's the only thing that matters. If we do that, everything else will fall into place for me, both on and off the field.''
"It's all about work ethic and if I stay determined, I should be able to play football at the college of my choice, and hopefully, in the NFL one day soon. There's going to be times when teams key in on me, I've seen it already. It doesn't matter, that's not going to stop me from doing whatever it takes to succeed. ''
If past results are any indication of what's in store in the future, Farmer figures to succeed, albeit in his own distinct and unselfish manner.