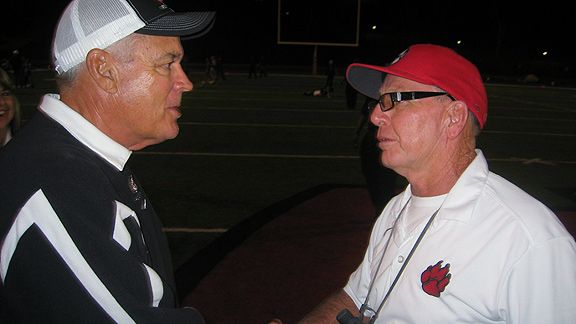 Martin Henderson/Special to ESPNLA.com
Mission Viejo coach Bob Johnson, left, talks to Dick Bruich after last Friday's game against Redlands East Valley, coached by Bruich's son, Kurt. Johnson and Dick Bruich have combined for 540 wins
Have never encountered Mission Viejo coach Bob Johnson more pleasant than he was before his team's 42-14 victory over Redlands East Valley last weekend. Johnson is feeling good about his undefeated team and its chances of winning a Pac-5 title, and he was evidently feeling very good living inside the calm before the storm that begins this week with South Coast League play.
The game against REV (3-2) renewed all kinds of memories and relationships for the Mission Viejo coach. Johnson knew Dick Bruich, a legendary coaching figure in the Inland Empire who won 292 games and four section championships at Fontana and Kaiser, and decided to call Kurt Bruich -- REV's coach -- to see if the kid wanted to play a game. No problem.
And here is where Friday's game seemed to feel like Family Night. Kurt Bruich was a receiver and Johnson's son (and Mission offensive coordinator) Bret Johnson was quarterback in the Shrine All-Star game the summer of 1988 in which the all-star team of seniors was coached by the elder Bruich, who had guided Fontana to the mythical national championship the previous autumn. The team that Fontana beat in the Big Five championship during its iconic season was Fountain Valley, which was coached by Mike Milner -- who now coaches the secondary at Mission Viejo. Dick Bruich was in the press box, where he would talk to coaches during the game, and Bob Johnson was on the field waving to him.
For whatever reason, there was a very relaxed atmosphere, which seemed to agree with Johnson (248 victories, six section titles), whose squad will go to Redlands next season when REV should be considerably better (it's largely juniors and sophomores this season).
The game also seems to agree with the younger Bruich, who has shown a willingness to step up against the best teams he can find to challenge his players, such as 15-year-old junior quarterback Austin Decoud.
Dick Bruich, 63, who has retired from teaching and mostly from coaching, met with Johnson at midfield when the game was over.
Now 65, Johnson said he has no plans to quit. "I don't have any other hobbies," he said. "As long as I still have the passion I'll continue to do this. Believe me, I'll know when it's time."
This has the potential to be a good longstanding series between IE and OC teams, akin to Mater Dei-Corona Centennial.
For REV, the Wildcats know they'll learn their flaws before playing rival Redlands (4-0-1), which this season is Friday at the University of Redlands. Mission, which got one of its best tests of the season despite the one-sided score, plays host to Dana Hills (3-3) on Friday.