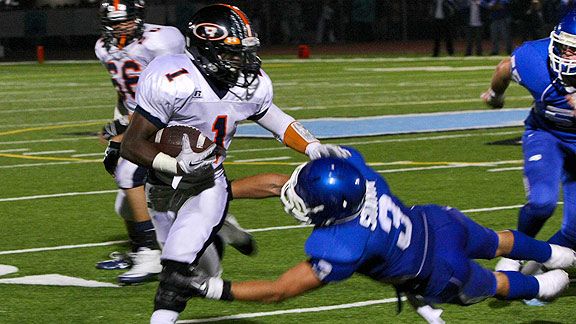 Courtesy of Paul Moureaux
Eastvale Roosevelt running back Buster Jackson helped the Mustangs upset Norco, 24-21, and create a logjam in the Big VIII League standings.
Corona Centennial continues to sit on its perch while the rest of the Big VIII League teams knock each other off. Corona Santiago defeated Eastvale Roosevelt in Week 3, then turned around and lost to Riverside King in Week 4. A night later, Roosevelt toppled Norco, putting ESPNLA.com in a no-win situation when it comes to establishing an Inland Empire top 10.
1. (1) Centennial, 5-0
The Huskies are averaging 51 points this season, putting them on pace for 714 through 14 games. Only Westlake Village Oaks Christian (2004, '06) and Bloomington (1994, '96, '97) have scored more in Southern Section history. Last week: Beat Riverside Poly, 52-8. Next: vs. Riverside North, Friday.
2. (3) Vista Murrieta, 4-1
Javonte Slater is headed to USC on a track and field scholarship, but he continues to prove he's more than just a straight-ahead runner. He had a season-high 145 rushing yards last weekend against Palisades. Last week: Defeated Palisades, 45-16. Next: vs. Temecula Chaparral, Thursday.
3. (2) Norco, 4-1
Something happened on the way to that showdown with Centennial on Oct. 29. The Cougars got run down by the Mustangs of Roosevelt. Last week: Lost to Roosevelt, 24-21. Next: at Santiago, Friday.
4. (4) Fontana Kaiser, 5-0
OK, so the Cats aren't perfect, giving up their first points since Week 1. Still, they managed to score 55 points in a game that lasted just under 90 minutes because officials used a running clock from the second quarter on. Last week: Beat Hesperia, 55-14. Next: vs. Mira Loma Jurupa Valley, Friday.
5. (10) Roosevelt, 4-1
Excuse the Mustangs for over-celebrating their upset victory against Norco last weekend. The program is only four years old and, quite frankly, that was its biggest victory to date. Last week: Beat Norco, 24-21. Next: vs. Poly, Friday.
6. (7) Chino Hills, 4-1
The Huskies had an extra week to reflect on their 14-3 victory against Redlands East Valley on Oct. 1, prepare for the aerial attack of Claremont and give Ifo Ekpre-Olomu's shoulder a chance to heal. Last week: Bye. Next: at Claremont, Friday.
7. (6) La Quinta, 4-1
Coach Dan Armstrong is still convinced the Blackhawks can play better, especially after they turned the ball over five times last weekend. Fortunately, they have another three weeks before they face a quality opponent. Last week: Beat Yucaipa, 34-16. Next: vs. Cathedral City, Friday.
8 (8) Redlands, 4-0-1
The Terriers haven't blinked since starting quarterback Jojo Hernandez went down with a knee injury Sept. 19. Mike Stallone has filled in admirably, leading Redlands to victories over Carlsbad La Costa Canyon and Rancho Cucamonga. Last week: Bye. Next: vs. Redlands East Valley at Univ. of Redlands, Friday.
9. (9) Moreno Valley Rancho Verde, 5-0
The Mustangs scored four touchdowns in the final six minutes of the second quarter last weekend. They might actually have to work up a sweat this week. Last week: Beat Moreno Valley Valley View, 63-0. Next: vs. Riverside La Sierra, Friday.
10. (NR) Corona, 4-1
Probably the most impressive result for the Panthers this season was their only blemish, a 56-34 loss to Orange County power Mission Viejo in Week 2. Their schedule gets much tougher the rest of the way. Last week: Beat North, 48-17. Next: vs. King, Friday.
Dropped out: Santiago