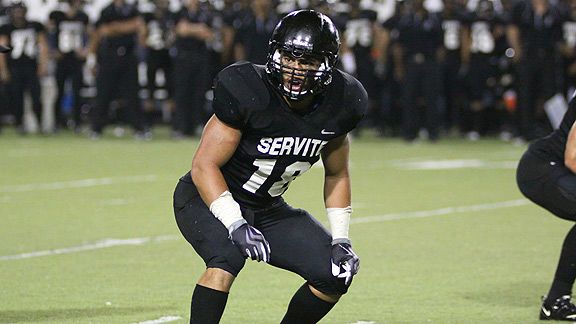 Courtesy of Laurence Martinez
The Trinity League is tougher than ever, and that has top-ranked Servite and linebacker Butch Pauu (18) looking over their shoulder.
In the four years of its existence, the Trinity League is responsible for two Pac-5 and two State Bowl championships, but Thursday ushers in a new era for the Southern Section's marquee league.
It's better than ever.
Mater Dei (3-2) plays host to St. John Bosco (4-1) at Santa Ana Stadium to begin the league's fifth year, and Bosco won't be the pushover it has been. Orange Lutheran (3-2) plays host to Santa Margarita (4-1) at Orange Coast College, and the visiting Eagles won't have any resemblance to the team that failed to win a league game for the first time in its history a year ago. Servite (5-0) – which has won or shared five straight league titles, including the league's first outright championship a year ago – visits JSerra (5-0) at Saddleback College to face a program that last week defeated a team by the same margin as highly regarded Bishop Amat.
First-year coaches Harry Welch at Santa Margarita (he has won two state bowl titles with different teams) and Jason Negro at Bosco (he guided Trabuco Hills to its section finals in two of the past three years) have elevated those programs already and seem to be the biggest reasons for the new landscape. There are no more also-rans in the league. Now, everyone is an also-running.
"It's always had elite teams in the league, and it had the appearance at times that it was top heavy – the Big Three," said Negro, whose squad is led by senior running back Martin Brown and several juniors. "It's more of a complete league now, from 1 to 6 you've got teams capable of winning this league. It's a shame there are only going to be three teams selected for the playoffs out of this. . . . There's going to be somebody not in the playoffs who could win one or two playoff games."
There are no at-large berths for the 16-team Pac-5 playoffs, which includes three automatic berths for the Trinity, South Coast, Serra and Sunset leagues, and four berths for the Moore League. Over the last four seasons, the Trinity League has filled six of the 16 spots in the semifinals (Lutheran 3, Servite 2, Santa Margarita 1). The Moore League has filled five (Long Beach Poly 4, Lakewood 1), followed by the Sunset (Edison 2), South Coast (Mission Viejo 1, Tesoro 1) and Serra (Crespi 1).
Servite has won a share of all four Trinity League titles, Lutheran a share of three, and Mater Dei a share of two. Though there may not really be six teams capable of winning the league championship, as Negro suggests, on any given night it appears that Servite, Mater Dei and Orange Lutheran – which has had the poorest nonleague showing this season among the six schools – could be had.
"The league should be really good and a lot of fun," said Troy Thomas, whose arrival at Servite in 2005 coincided with the rejuvenation of that program. "There are no free rides."
Even JSerra, which in 2006 forfeited all of its Trinity League games for safety reasons, seems ready to compete among the elite in coach Jim Hartigan's fourth season. He has already guided Santa Margarita and Fresno Clovis West to section titles in previous coaching stints, and though you'll find few takers that JSerra is ready to win a league title much less a Pac-5 championship, the program has some real threats in senior running back Joey Kimpler and two juniors, QB Jake Hall and receiver Jonavaughn Williams. Of course, they'll face Orange County's best defense led by Servite linebackers Matt Inman and Butch Pauu on Friday at Saddleback College.
The Lions are coming off a 42-7 victory over Damien which, a few weeks earlier, was beaten by Serra league favorite Bishop Amat 42-7. Bishop Amat is ranked No. 6 in the Southland by ESPNLA and No. 3 in the Pac-5 Division in the Southern Section poll. Comparable scores don't necessarily mean anything, but still. . . . Bishop Amat and JSerra both opened up 35-0 leads on Damien.
Negro, who said his players have worked hard and bought into the changes he made within the program, knows Bosco is headed in the right direction.
"Some of my coaches at Trabuco saw us lose to Lakewood, and then saw us beat La Habra, and they were shocked at the improvement over the course of three weeks."
Negro, who must fashion a game plan to combat Mater Dei's USC-bound passing combination of Max Wittek and Victor Blackwell and a defense that has been superb the past couple of weeks, said he has noticed something this week that he didn't realize previously.
"A league game in the Trinity League is bigger than a Southwest Division final," Negro said. "I kept four guys from the staff, and they said, 'You guys don't get it – league is a different monster. The games are faster and more physical.' I've sensed it a little in practice this week. The kids have practiced faster. At Trabuco, that didn't happen unless we were playing Foothill or El Toro for the league title.
"I told them, 'Wow, you guys are practicing better.' They said, 'Coach, it's league.'"
And what a league it is.