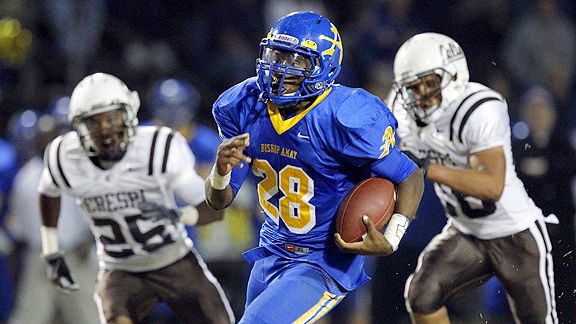 Alex Gallardo/Special to ESPNLA.com
Bishop Amat's Jalen Moore's 270 rushing yards and two touchdowns led the Lancers over Crespi.
LA PUENTE -- When things seemed bleak, all Bishop Amat needed was more of Jalen Moore. And them some more.
The tailback was a workhorse Friday night, carrying the ball 32 times for 270 yards and two scores in No. 6 Bishop Amat's 31-28 win against No. 9 Encino Crespi. Moore scored both of his touchdowns in the fourth quarter, helping the Lancers (7-0) erase a 21-17 deficit.
Zachary Shay, Amat's other top playmaker, suffered an ankle injury on the fifth play from scrimmage and did not return. That left Moore as the only backfield threat, but Crespi's defense still wasn't able to slow him down.
Legs grew weary. Arm tackles just wouldn't do.
"Jalen was running with some good tilt," Bishop Amat coach Steve Hagerty said.
The Lancers, who jumped out to a 17-0 lead in the first half, needed as much tilt as they could manage after the Celts scored 21 unanswered points to assume a fourth-quarter lead.
"I was glad we had adversity," Hagerty added. "We faced it, we dealt with it. They found a way to pull it out and finish."
Quarterback Kenny Stenhouse, who had broken Crespi passing records on consecutive weekends, threw for 242 yards and two touchdowns on 21 for 34 passing. His goal-line sneak midway through the third quarter put Crespi (5-2) ahead, quieting the large home crowd.
"They are a high-profile offense," Hagerty said. "We had trouble."
If that wasn't enough, Bishop Amat charged down the field on its next possession, but Crespi's defensive front turned Rio Ruiz away at the goal line.
From there, it was time for Moore.
Crespi had averaged 41 points per game heading into Friday, but saw its five-game winning streak snapped because there was no answer for Moore. The 5-foot-10 junior rushed for 180 yards in the second half and had exhausting runs of 51, 38 and 33 on the night.
"I don't think we did that great in the first half," Moore said. "But in the second half we had to come out and fight."
Stenhouse had thrown his punches, so it was Moore's turn to take a few swings. He capped an eight-play, 38-yard drive with a four-yard score early in the fourth to put Amat on top for good. He scored from three yards out on the next possession to make it a two-possession game.
Stenhouse responded with a 66-yard drive to cut the deficit to three, but Moore sealed it two plays later, breaking loose for a 27-yard gain.
"The guys up front did a good job and we tried to stay within what we can do," Hagerty said. "We got lucky and finished with a few more points."