1. Servite trailed, 14-12, after St. John Bosco scored with 1:42 left in the second quarter. It's the deepest into a game that the Friars have trailed all season, though they drove 80 yards and retook the lead by halftime. They fell behind JSerra a week earlier, 7-0, after fumbling the opening kickoff at the 22. Are the Friars falling off their game? Not hardly. Bosco is that good, and whether the Braves make the playoffs or not – only three teams from the Trinity League will – they have made huge strides under first-year coach Jason Negro.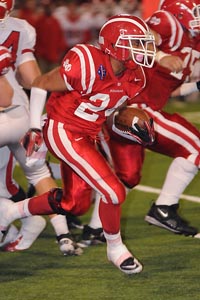 Courtesy of Lou Colazzo
Corbin Anderson has added another dimension to Mater Dei's offense.
A week earlier they led Mater Dei in the fourth quarter and were on their way to a potential game-winning touchdown when an errant snap doomed them. As for Servite, Malik Felton had the kind of breakout game I had expected much earlier. Playing the same position as Chris Nicholls, a central cog in last season's Pac-5 and State Division II Bowl championship team, Felton put up Nicholls-like numbers: He rushed 24 times for 199 yards and two 11-yard touchdowns in a 32-24 victory over St. John Bosco. Expect Servite to get even better over the next three weeks, and with Mater Dei and Santa Margarita still ahead of them, the Friars will need to be.
2. Corbin Anderson played for the first time this season for Mater Dei, and he definitely makes the Monarchs better. He rushed for 113 yards in 18 carries in his debut, a 28-14 victory over an Orange Lutheran team that's a lot tougher than most people think. Coupled with fullback Todd Hunt, the emergence of Sedric Hill as an excellent complementary receiver to Victor Blackwell, and ever-present QB Max Wittek, it's going to make for some long nights for Servite leading up to their game on Friday at Angel Stadium.
3. The most shocking thing about the weekend's results was the one-sidedness of Los Alamitos' 30-0 victory over Newport Harbor. The last four games between these teams have been decided by four points or fewer. Nick Richardson, an all-county type of running back, returned to the lineup after missing several games because of a foot injury; he carried six times for25 yards and a touchdown, an effort that was hardly needed given that 5-foot-6 Cody Paul rushed for 158 yards. Having seen their lackluster performance against Santa Margarita – Los Alamitos simply didn't compete – this victory shows that there might be life in the Griffins after all.
4. San Clemente coach Eric Patton said his team doesn't have a "breaking point," and that's what it looked like in a 42-28 victory over Dana Hills. A week after trailing Trabuco Hills by 13 points in the first quarter, the Tritons were down 21-7 to Dana Hills just 13 minutes into the game. The offense rushed for 247 yards – no one had more than 65 – and Travis Wilson completed six of nine passes for 164 yards. The defense shut out Dana Hills in the second half, and a 69-yard punt return by Christian Tober to the 20-yard line turned the momentum and the game in SC's favor with the score tied at 28-28. After being demolished by Mater Dei, San Clemente looks as if it's as prepared as ever for Mission Viejo – but it won't be a low-scoring game. And they can't spot the Diablos a two-touchdown lead.
5. Tesoro is 6-1 overall and 1-0 in league, but the Titans needed three touchdowns in the final 13 minutes to score a 21-14 victory over Trabuco Hills -- generally expected to be the last-place team in the South Coast League -- and even that was not without controversy. Tesoro DB Jordan Alvino was credited with an interception in the end zone as time expired although receiver Lucas Hoover appeared to catch the ball only to have Alvino rip it out of his hands for the pick. Was it a TD? The Trabuco staff, desperate for a victory, argued that Hoover caught the ball first, which would have given the Mustangs a chance to tie, or even win, with the point(s) after. With such a Herculean effort to come from behind to beat Trabuco, is there any way the Titans can beat Dana Hills (3-5), which scored 26 legitimate points against Mission Viejo in a loss; Mission Viejo (7-0) and/or San Clemente (6-1) in consecutive weeks to earn a playoff berth? It doesn't seem likely given that Tesoro's victories -- apart from the one in which Santa Margarita committed five turnovers to blow a second-half lead -- were against unimpressive lower division opponents: Division XI Cerritos Valley Christian (5-3), Division II South Hills (2-5), City Section's West Adams (1-6), and Division VIII Ridgecrest Burroughs (4-3). This week's game against Dana Hills is for a playoff berth, and I'm convinced more than ever that Tesoro is in trouble.