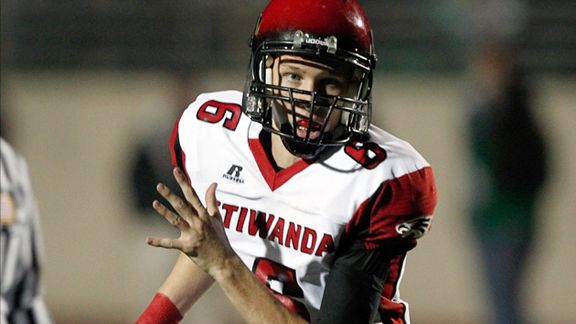 Alex Gallardo/Special to ESPNLA.com
Larry Cutbirth has filled in well in his first season as quarterback at Etiwanda.
Larry Cutbirth wasn't a complete unknown when the season began. He just wasn't known as a football player.
Cutbirth, a junior quarterback at Etiwanda, was asked to take over this season for Angel Santiago, who combined for 6,800 passing yards and 57 touchdowns the previous three seasons. He also ran for 2,167 yards and 27 touchdowns during that span.
Cutbirth has filled his shoes nicely, especially on the passing end. He has thrown for 2,065 yards and 21 touchdowns through seven games, completing 66% of his passes. Both his passing yardage and touchdowns are fifth-best in the Southern Section.
In a 53-34 loss to Upland last Friday, he threw for a season-high 437 yards, including 357 in the first half and all four touchdown passes.
Before this season, Cutbirth was better known as wrestler. He was the Baseline League champion last season in the 152-pound division. Cutbirth has grown two inches since then and now stands 6 feet 5. He plans to wrestle in the 171-pound class this winter.
Though it's rare for a high school quarterback to participate in wrestling, Cutbirth said competing on the mat pays off on the football field.
"Wrestling is the hardest conditioning sport and it really keeps me conditioned out there," he said.
Cutbirth said playing behind Santiago also was beneficial. Santiago has since accepted an appointment to Army and currently attends a one-year prep school before joining the football team next fall.
As for Cutbirth, he said recruiting has picked up significantly since the start of the season. Look for him to be one of the top-rated quarterbacks in the Southland next season.
In this post-game interview from last weekend, his talks about the game against Upland, his recruiting and the benefits of wrestling.