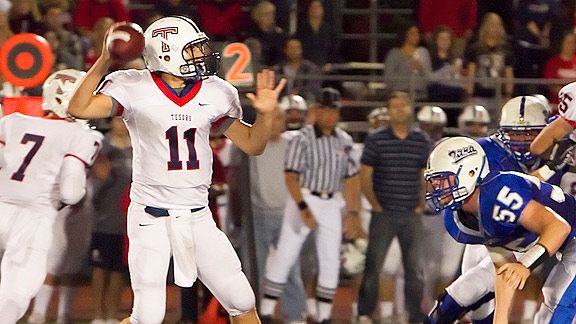 Courtesy of Tony Tribolet
Matt Adam (11) passed for three touchdowns as Tesoro dominated Dana Hills, 38-3.
1. The most surprising result of the weekend had to be the outstanding and dominant performance by Tesoro in a 38-3 South Coast League victory over Dana Hills (3-6, 0-3). The Titans (7-1, 2-0) dominated Dana in a way that neither Mission Viejo (a 52-26 winner) nor San Clemente (42-28) could. The result makes this week's showdown with MV (8-0, 2-0) all the more interesting. Given the mostly lackluster schedule and the milquetoast performances in recent weeks by Tesoro, the thinking here was that Coach Brian Barnes' team was toast. Instead, they hinted that they were getting into playoff shape as the defense shut down dynamic Trent Mason, and Matt Adam passed for three touchdowns (two to Kyle Woolbright) and four different players found the end zone.
2. Servite seems to be a different animal with Malik Felton as the tailback. His ability to take it to the house – witness his game- and head-turning 87-yard TD run on Friday -- has added a dimension to the Friars that had been lacking. However, the most important thing that may have come from Servite's 21-14 victory over Trinity League rival Mater Dei was the performance by junior quarterback Cody Pittman on a fourth quarter touchdown drive. The kid whose task was to replace Cody Fajardo showed poise, completed all four of his passes, and ran three times for 36 yards, including a big 24-yard gain that preceded Felton's six-yard scoring run. Every week he gets closer to being the guy who can lead this team to a championship, and he also gains the confidence of teammates as he succeeds in new situations. And, lest we forget, for all the concerns about him and the team's lack of offensive punch, he's 8-0 as a starter.
3. There's no quit in Santa Margarita, and that's to be expected from a team coached by Harry Welch. The Eagles (7-1) trailed St. John Bosco, 20-0 early in the second quarter and were down 27-14 points in the fourth quarter, but pulled out a 42-41 overtime victory with their second string quarterback -- Johnny Stanton passed for three touchdowns and ran for another. When Bosco (4-4), the home team, failed to convert a two-point conversion going for the victory, it ended the biggest comeback in Santa Margarita history, and it clinched a playoff berth for a team that went 3-7 a year ago and failed to win a league game for the first time in school history. If Buena Park (6-2) hadn't had such success under first-year coach Anthony White, given the adversity that that program faces, the coach of the year award would be a no-brainer. Still, the Eagles' biggest tests of the season are still ahead: Servite, then Mater Dei, then the Pac-5 playoffs. That's quite a gauntlet.
4. Newport Harbor's 7-0 loss to Edison (6-2, 3-0) in a Sunset League game was the third time in four games that the Sailors (4-4, 1-2) have scored six points or fewer, and it was the team's fourth loss in five games. Not surprisingly, the skid coincided with the injury to junior running back Buzzy Yokoyama, who made his return from a dislocated kneecap and gained 55 yards. If he can continue to get better in his recovery, the Sailors should win out against Marina (3-5, 0-3) and Huntington Beach (5-3, 1-2), and by that time they could be a handful for their first-round opponent in the playoffs.
5. Seriously, I never thought I would see the day that Esperanza (3-6, 1-4) would lose to Brea Olinda (2-6, 2-2) in a football game, much less lose 3-0 in the Century League (on Travis Halm's 20-yard field goal in the fourth quarter). The Aztecs have been hurt by the creation of Yorba Linda High, but still . . . This is a program that, stuck in my subconscious, still belongs in the Sunset League – they lost an epic Division I championship in 2005 to Loyola, 49-42, after winning the first of four consecutive league titles. It's one of those things that just doesn't compute.