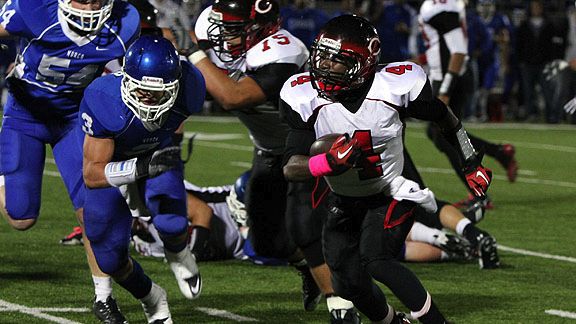 Courtesy of Paul Moureaux
Barrington Collins had five touchdowns in Centennial's 45-0 win over Norco.
1. Corona Centennial has a lot of people wondering just how good the Huskies are after they trampled Norco, 45-0, in a Big VIII League game Friday night at Norco. The Huskies came in ranked No. 4 in the Southland by ESPNLA, but a closer looks indicates they might be a little under-rated. Centennial blew out Mater Dei, 44-13, in Week 2. Servite, ranked No. 1, escaped with a 21-14 victory over the Monarchs on Friday. And if that's not enough of an indicator, Centennial defeated Temecula Chaparral, 45-12, on Sept. 24. A week later, the Friars defeated the Pumas, 28-7, and Chaparral was without two of its best players. Another comparison will come this weekend when the Huskies travel to Corona. Mission Viejo, ranked No. 3, beat the Panthers, 56-34, on Sept. 16.
2. What happened to Riverside King? The Wolves were looking really good after defeating Corona Santiago and Corona on back-to-back weeks last month. All they had to do was defeat Riverside Poly and Riverside North and they were a lock for an automatic playoff berth out of the Big VIII League. But a not-so-funny thing happened on the way to the postseason, King was upset by Poly on Friday night, 45-39, dropping the Wolves into fifth place. The loss didn't completely blow their chances for an automatic playoff bid, however, as Corona (5-3, 3-2) still has Corona Centennial and Norco on its schedule, while King (4-4, 2-3) has Eastvale Roosevelt and North. If the Panthers lose their final two games, as they should, and King splits its final two, the Wolves win the tiebreaker based on their head-to-head result with Corona.
3. We said it was going to be a tight one and Rancho Cucamonga and Upland didn't disappoint. The Cougars rallied after giving up the game's first 17 points and scored the go-ahead touchdown with just over two minutes remaining to beat Upland, 35-31, at Rancho Cucamonga High. The victory puts the Cougars (7-1, 3-0) alone in first place in the Baseline League and will earn them a spot in this week's Inland Empire top 10. Rancho Cucamonga can clinch at least a share of the league title with a win Thursday against Etiwanda (4-4, 2-1) at Ontario Colony High.
4. Another wild finish in the Mountain Pass League as Hemet West Valley scored with 25 seconds remaining to beat San Jacinto, 21-17, and take over sole possession of first place. Charles Carlisle caught the winner on an 11-yard pass from Jacob Mendenhall, sending the homecoming crowd home with a victory. A key play on the drive came on fourth and two at the San Jacinto 17-yard line. The Tigers jumped off-sides to give West Valley (5-3, 3-0) a first down. West Valley coach Jason Thornburg told reporters after the game that he would have tried a game-tying field goal if San Jacinto (6-2, 2-1) hadn't jumped offsides.
5. Phelan Serrano isn't about to give up its grasp as the king of High Desert football. The Diamondbacks took on upstart Hesperia Oak Hills in a Mojave River League game Friday night and demonstrated they're as solid as ever, pulling away for a 31-9 victory at Oak Hills. The Bulldogs, in just their second season with a varsity program, have come on fast but still have a long way to go to un-throne the Diamondbacks (7-1, 3-0).