Ryan Jack is quiet, unassuming, a modern-day Opie Taylor if there ever was one.
He's also the face of the Corona Centennial defense.
Far and away the most efficient tackler for the Huskies, the 6-foot-1, 200-pound middle linebacker is averaging 10.1 takedowns a game, 4 ½ more than the team's next leading tackler. He's a big reason why the Huskies, ranked No. 4 in the Southland by ESPNLA, have not allowed more than 13 points in a game while running their record to 8-0.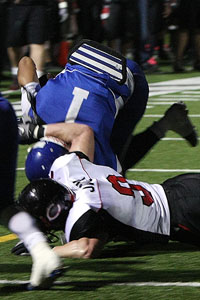 Courtesy of Paul Moureaux
Ryan Jack tackles Norco running back Kelsey Young, in blue, during last Friday's game.
He had a season-high five solo tackles in a 45-0 victory Friday against then-No. 13 Norco in a Big VIII League game, including the one pictured here.
On that play, Norco was inside the 20-yard line when Stanford-bound running back Kelsey Young took a direct snap, headed around the right end and then lowered his shoulder as he cut up field. Jack quickly closed the gap and slammed into Young, throwing him to the turf with a violent heave from his right arm.
"We knew it was coming," Jack said of the direct snap the Cougars employed in key situations.
With all the talent on the Centennial football team this season, Jack is still the only Husky committed to a Division I college program. He pledged to San Diego State last month, a school he followed since he was a youngster.
Jack had big shoes to fill last season when he took over the middle linebacker position previously occupied by Vontaze Burfict, a U.S. Army All-American selection who now anchors Arizona State's defense.
He filled them supremely, totaling 145 tackles and 2 1/2 sacks, and earning a spot on the All-Southern Section Inland Division team.
Jack hopes to play couple more games this season. The Huskies were eliminated in an Inland Division semifinal a year ago. This season, they are clear favorites to win the Inland Division title and possibly represent the South in the Division I state bowl game.
Here's what Jack had to say following the Huskies' victory over Norco.