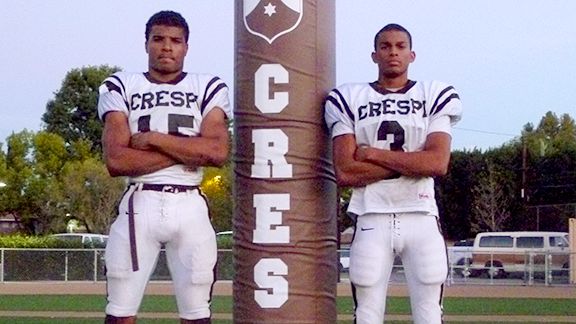 Sean Ceglinsky/Special to ESPNLA.com
Devin Lucien, left, and Chris Harper form one of the most potent receiving duos in the Southern Section.
Pick your poison, Devin Lucien or Chris Harper. But before making the decision about which Encino Crespi High receiver to double-team on the football field, know this, there's no good answer. More than a few opposing coaches can attest after having made the wrong choice this season.
Week in and week out, Lucien and Harper have combined to play about as well as any other wideout tandem in the Southland. And as a result, the Celts are still alive and well in the postseason playoff picture heading into Friday night's Serra League game against visiting Los Angeles Loyola at 7 p.m.
"Devin and Chris bring so much to the table, it's crazy. Those guys make my job a whole lot easier,'' Crespi quarterback Kenny Stenhouse said. "Lucien is big, fast and athletic, he's the total package, no doubt. Harper runs great routes and catches everything thrown his way, he's a handful to deal with.''
Lucien and Harper compare rather favorably to some of the more talented pass-catching teammates residing in Southern California. Of course, Gardena Serra's George Farmer and Marqise Lee instantly come to mind. And there's also Santa Ana Mater Dei's Victor Blackwell and Sedric Hill.
For all intents and purposes, Lucien is the more polished of the two outside threats for the Celts. He is, after all, an experienced senior. The 6-foot-1, 190-pounder has scholarship offers from several NCAA Division I programs and leads Crespi with 45 receptions for 860 yards and 12 touchdowns.
"I've learned a lot from Devin, just being able to play on the opposite side of him has let me see some things I might not have ever had a chance to get a look at,'' Harper said. "I've got a ton of respect for him.''
Harper, on the other hand, is no slouch. Far from it, in fact. The junior has done a good job of holding his own and has 47 receptions for 697 yards and five scores. Furthermore, all signs point to him following in Lucien's footsteps and taking over as the main target for Crespi a year from now.
"Chris has a bright future, I can see him doing big things down the road,'' Lucien said. "Some guys have it, some guys don't. Chris is one of those guys that has it and we're tough to stop because of that. When we're on the same page, I don't feel like there's any team out there that can hold us down.''
Lucien and Harper, along with the rest of the Celts (5-2, 0-2), appear to be focused on the task at hand. And that's a good thing considering a showdown against Loyola (3-6, 0-3) looms later this week. The winner figures to improve its chances of qualifying for the CIF-Southern Section Pac-5 Division playoffs.
The season could be over for the loser. Ultimately, Lucien and Harper could end up being the difference-makers for Crespi, similar to the way the talented twosome has been so many other times over the course of the season.