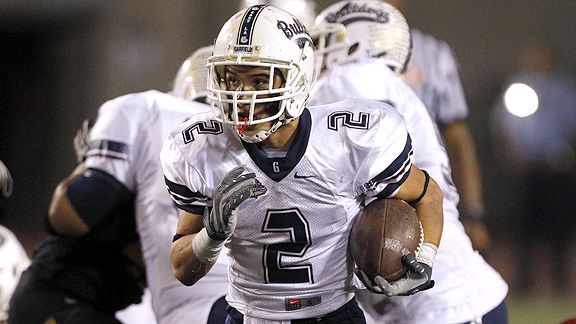 Alex Gallardo/Special to ESPNLA.com
Lance Fernandez stepped up on offense and defense to help power Garfield to victory.
MONTEREY PARK -- Lance Fernandez turned in a memorable performance and it couldn't have come at a better time for a much-maligned Garfield offense.
The sophomore rushed for a season-high 173 yards on 22 carries Friday to lead the Bulldogs to a 13-3 victory over archrival Roosevelt in the East Los Angeles Classic before 20,000 at East L.A. College.
The victory kept Garfield (5-4, 5-0) undefeated in the Eastern league, while Roosevelt (5-4, 2-3), the two-time defending champion, dropped out of contention.
Fernandez entered the game with 434 rushing yards in eight games, so his performance was a surprise to many, including his coach.
"I didn't see that coming," Garfield coach Lorenzo Hernandez said. "He came out of nowhere and gave us the best performance he could possibly give us."
Fernandez paced a Garfield offense that outgained Roosevelt 321-137 in total yards and had 15 first downs to Roosevelt's six.
The Bulldogs gained 225 yards on the ground, while limiting the Rough Riders to only 74.
The soft spoken Fernandez had little to say about Garfield's offense.
"You have to give it to the defense," he said. "They were perfect tonight and saved the offense after we made those mistakes that we did."
Fernandez didn't figure in those mistakes. Garfield quarterbacks Nicky Peralta and Leonardo Vaal each had a pass intercepted.
Garfield drove 50 yards in seven plays with Peralta throwing a shovel pass to Moses Saucedo to take a 7-0 lead in the first quarter.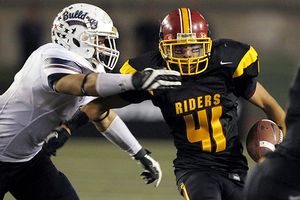 Alex Gallardo/Special to ESPNLA.com
Roosevelt's Ricardo Estrada (41) looks for some yardage against Garfield, which held the Rough Riders to 137 yards in offense.
The Bulldogs' next series ended with Roosevelt's Jonathan Mariscal intercepting a pass by Vaal and returning it to the Garfield 26-yard line.
But Roosevelt fumbled it back to Garfield to end the threat.
Garfield put Fernandez to work and gave him the ball on six consecutive plays and he weaved his way through Roosevelt's defense for 45 yards to set up a first down at the Roosevelt 13.
The Bulldogs went play-action and Peralta's pass was picked off by Roosevelt's Kevin Rios, thwarting the scoring drive.
Inspired by the turnover, Roosevelt quarterback Andony Flores led his team down field, hitting Mariscal for a 39-yard gain on first down. The drive led to Rafael Gomez kicking a 23-yard field goal as time expired in the first half and getting Roosevelt to within 7-3 at the half.
Another impressive drive by Garfield to start the second half resulted with the Bulldogs losing a fumble at the Roosevelt 45.
But the Rough Riders couldn't cash in as they missed a 38-yard field-goal attempt early in the fourth quarter.
"They dominated us on the offensive and defensive lines, but hey, it's 7-3 in the fourth quarter and still a ballgame," Roosevelt coach Javier Cid said.
But Garfield took control of the game on its next series, putting together its most impressive drive of the game. They drove 80 yards in seven plays with Vaal throwing a 37-yard touchdown pass to Steven De la Torre with 6:52 remaining.
A two-point conversion attempt failed.
Fernandez accounted for the rest of the yardage on the drive, gaining 43 yards. He ran all night behind the solid blocking of tackles Edgar Gonzalez and Jason Morales, guards Hasiel Santoyo and Christian Ortega, center Richard Torres and tight end Jaime Leija.
"Our offensive line played a perfect game," Fernandez said. "They scored 100 percent."
Garfield's defense was led by linebacker Hector Cazales and Saucedo at defensive end.
"Roosevelt has a good offense and you can't afford to let them break a play because they'll beat you," Cazales said. "It took a team effort and we played great as team. We strive to be the No. 1 defense in the City, and I'm proud to be part of it."
Despite the loss, Roosevelt still leads the overall series, 40-30-6.