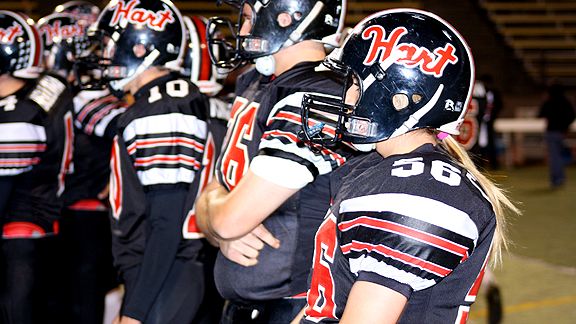 Tim Haddock/Special to ESPNLA.com
Alexis Claibourne says it took a little time for her Hart teammates to accept her as one of their own.
NEWHALL -- Most girls who play high school football are kickers. They come in for a play or two, safely away from the hitting and tackling that goes on throughout a football game.
Not Hart's Alexis Claibourne.
She plays on the defensive line and was on the scout team for onside kickoffs. It was linebacker John Cornelius' job to find Claibourne on the onside kick-off plays and block her. Knock her down. Do whatever it took to keep her out of the play.
"She has a lot of courage," Cornelius said. "I hit her every practice. That's a lot of courage there."
Hart's season ended on Thursday night with a 37-21 loss to West Ranch in the Foothill League season finale. Hart missed the playoffs for the first time since 1980. But for Claibourne, she has one more year to play high school football and perhaps help start a new streak of playoff appearances for Hart.
Claibourne, a junior, is undecided if she will return to the team in 2011. It's not that she didn't enjoy her experience with the team. She has big plans for college and playing football might interfere with those plans. She wants to attend Wake Forest University in North Carolina and study dermatology. To do that, she needs to go to community college first, save up enough money for tuition at Wake Forest and transfer in her junior year.
She wants to find a job next year to help pay for college. There might not be enough time for football if she has to work.
She said her mom, Melissa Parsons, is the one who instilled a love of football. Claibourne's mom is a Miami Dolphins fan and watches every game. Parsons' dad was a high school football coach and her brother played high school football.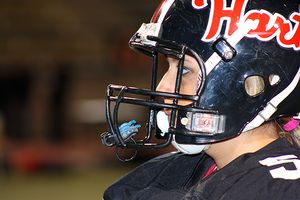 Tim Haddock/Special to ESPNLA.com
Alexis Claibourne got a chance to play on two plays for the Hart varsity football team this season.
"I was all for it," Parsons said about her daughter wanting to play high school football. "She's always been kind of her own person. She doesn't go by gender roles. I had no other choice other than to support her."
Claibourne inherited her mom's love of football, but it took her a while to make the Hart football team. She played a couple 0f years of flag football when she was younger but didn't start playing tackle football until this season.
She wanted to play in her freshman year but missed a meeting for tryouts. She didn't even try to make the team in her sophomore season.
But when time came to try out in spring practices, Claibourne came out and was one of the 40 players who made team. She said it took some time, but she was accepted by the other players as a teammate.
"At the beginning, no one wanted to hit me too hard," Claibourne said. "Eventually, I was Claibourne the football player. I am not the same girl off the football field. I was glad they were hitting me and not treating me like a girl."
Hart defensive end Justyn Eddins used the word "tough" to describe Claibourne and said he was impressed by her determination throughout the season.
"She got knocked on her butt a few times," Eddins said. "But she got right back up."
She played in only one game for two plays. Hart coach Mike Herrington said there weren't many opportunities to play her during the season. But she got into the game against Arroyo, a 44-3 blowout on Sept. 24.
"Both plays were run plays," Claibourne said. "I was pushed back pretty hard. I was not even close to getting a tackle at all."
Claibourne didn't play in any of the Foothill League games for Hart. But losing to West Ranch in the season finale was worse than not making the playoffs, she said. Claibourne did not want to be on the first Hart team to lose to West Ranch.
Still, being on the team and going through all the drills in spring and over summer was worthwhile, even if her high school football career has consisted so far of only two plays.
"It was so intense, so much fun that I was actually in a game," Claibourne said. "I thought, 'Why am I doing this? It's so much hard work.' But it was definitely worth it."