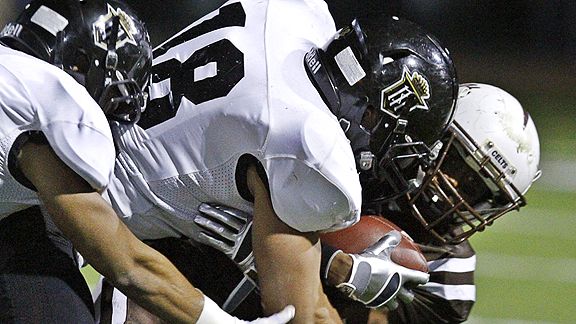 John Lazar/Special to ESPNLA.com
Crespi's M. Ajani Shanks gets tackled by Servite's Butch Pauu in the first half of their Pac-5 quarterfinal game.
ENCINO -- One of their very own came home.
Former Crespi High football coach Troy Thomas, also a Celts' alumni, returned to his old stomping grounds Friday night. This time around, however, he was in unfamiliar territory. Thomas was on the opposite sideline as head honcho of Servite, the top-ranked team in ESPNLosAngeles.com's Top 25 rankings.
As much as he attempted to downplay the whole idea of being back at Crespi, you get the sense Thomas was pleased with the Friars' 40-16 victory over the Celts in a Southern Section Pac-5 Division quarterfinal showdown.
"Sure, I recognized a lot of faces tonight, I was here for quite a while. But really, there was no need to make this game any bigger than it already was," said Thomas, who is in his sixth year at Servite after compiling a 34-13 record with the Celts from 2001 to '04. He graduated from Crespi in 1987.
"It's always nice to come back and get a win at your old school. But it wasn't about me. It was about all of our kids and their desire to get the job done. I'm extremely proud of this bunch. They did a great job. ''
With the victory, Servite (11-0) extended its winning streak to 22 consecutive games. Equally important is the fact that the Friars moved one step closer to a successful defense of their division title.
"Coach didn't say much leading up to this game, but deep down, we know he probably wanted this win a little more than the others this season,'' Servite senior Matt Inman said. "We got it done for him.''
The Celts' offense struggled for a majority of the game. Charles Washington did provide a highlight though, scoring on an 80-yard touchdown run for Crespi (8-4). Chris Harper caught the two-point conversion pass from Kenny Stenhouse to cut the Servite lead to 33-8 with :06 left in the third quarter.
Minutes later, Crespi made things somewhat interesting. Stenhouse threw a 12-yard touchdown pass to Devin Lucien and then he found Reginald Coates for the two-point conversion. All of a sudden, the Celts trailed 33-16 with 5:31 remaining in the fourth quarter.
It was too little too late though.
Malik Felton ran the ball well from start to finish for Servite and the senior running back scored on a 65-yard touchdown run with 4:19 left in the fourth quarter for the game's final margin of victory.
"They were real good, give them credit, they were everything we expected, and more,'' Stenhouse said. "We got off to a slow start tonight and weren't able to recover. It was a tough way to lose.''
The Friars didn't appear satisfied with a 23-point halftime lead as Connor Loftus kicked a 25-yard field with 3:11 left in the third quarter. Felton essentially ruined any comeback hopes Crespi had when scored on a 51-yard run to give Servite a 33-0 lead with less than a minute left in the third quarter.
Trailing by a 23-point deficit with a few seconds left in the second quarter, Crespi elected to go for a touchdown on fourth down from the Servite 18-yard line instead of attempting a short field goal. Stenhouse threw the ball up for grabs in the end zone. The end result, was an incomplete pass to Lucien. Accordingly, the Celts went into the break with little, or no, momentum.
It didn't take long for Servite to extend its lead in the second quarter. Loftus kicked his third field goal of the first half, a 23-yarder this time, to give the Friars a 13-0 advantage at the 8:33 mark.
On its subsequent possession, Crespi went three and out and was forced to punt. Servite applied pressure up the middle, Connor Hoffman blocked the kick and London Lewis recovered the ball in the end zone to give the Friars a 20-0 lead with 6:53 remaining in the second quarter.
The Friars weren't done either. In fact, they moved the ball rather well to set up a 41-yard goal that Loftus, of course, converted with 1:42 left in the first half to give Servite a 23-0 lead at intermission.
Servite showed its big-play capability early on as Robert Abeyta returned the opening kickoff 30 yards to give the offense the ball at midfield. On the next play, quarterback Cody Pittman was flushed out of the pocket and ended up scrambling for 38 yards to move the ball to the Crespi 21-yard line.
Give the Celts some credit, they managed to buckle down on defense and held the Friars to a field goal, a 37-yarder by Loftus. With 9:55 remaining in the first quarter, Servite held a 3-0 advantage.
It was more of the same on the Friars' second drive. More of Servite moving down the field with relative ease.
Initially, Daniel Tejada was on the receiving end of a 22-yard pass from Pittman. Seconds later, Felton appeared to find the end zone on a 33-touchdown yard run. However, the play was nullified by a costly penalty. Ultimately, it didn't matter as Felton scored on a 20-yard touchdown run with 5:20 remaining in the first quarter to extend the lead to 10-0.
The Celts got their offense going the next time they touched the ball. Harper caught a 15-yard pass for a key first down and Terrence Williams picked up 21 yards on two catches Then things fell apart.
Lucien appeared to wide open for a 57-yard touchdown, but the senior receiver dropped the well-placed pass from Stenhouse. Shortly thereafter, Stenhouse fumbled the ball and the Friars recovered the miscue at their own 37-yard line with less than two minutes remaining in the opening quarter.
Felton finished with 173 yards on 14 carries.
Stenhouse completed 15 of 26 passes for 118 yards.