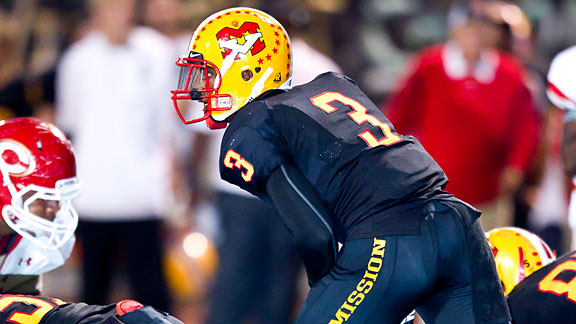 Courtesy of Ed Kaufer
Tre Madden plays all over the field for Mission Viejo, but his highest value probably comes on defense.
As Tre Madden carefully surveys the football field just before the ball is snapped, the standout middle linebacker from Mission Viejo High notices a number of different things taking place on the other side of the ball.
Initially, the opposing quarterback steps underneath center, apparently sees something amiss and quickly calls an audible. Accordingly, the wide receiver is set in motion and proceeds to the opposite side along the line of scrimmage.
Madden is as alert as ever now, and out of the corner of his eye, he catches the fullback leaning over his right shoulder, seemingly in an effort to make sure that both he and the tailback lined up behind him are on the same page.
The play was originally designed to be a short pass to the wideout in the flat. The plan, however, has changed. Running the ball straight ahead, into the heart of the defense, is the next order of business. The ultimate goal is to pick up the necessary yardage for a key first down, and thus, keep the drive alive.
Madden, of course, has other ideas about how things are supposed to work out and makes the proper adjustments well beforehand.
"Hut one! Hut two! Hut, hut, hike!"
With the ball in motion, he instinctively explodes toward the first level and sheds would-be blocks from the tackle and pulling guard. Seconds later, Madden is roaming relatively free in the backfield. The fullback offers little, or no, resistance as he ends up meeting the ball-carrier head on and takes him down for a loss.
Running back stopped short. Offense stopped short.
It's a scenario that has played out time after time this season for the Diablos and Madden, a 6-foot-1, 215-plus pound senior who is committed to USC and considered as one of the nation's premier players at his position.
"It seems like Tre makes an impact on every down for us,'' Diablos coach Bob Johnson said. "Any time you have an individual like him, someone of his caliber, consider yourself lucky that he's on your side and not in uniform for the team across the field. He is not Superman, but he certainly makes life tougher for other coaches, I say that because I've heard as much plenty of times in the past.
"We're talking about a dynamic athlete. Tre has it all, size, speed, strength, smarts. He's a handful to deal with on a weekly basis. He's the top player in Orange County and I think there's plenty of people out there who would agree with me. Calling Tre one of the best linebackers in the country is no stretch, not by any means.''
Not surprisingly, Madden was at it again this past weekend for Mission Viejo (12-0), No. 2 all season in ESPNLosAngeles.com's Top 25 rankings. Ultimately, he proved to be the difference for the Diablos in a 31-28 Southern Section Pac-5 Division playoff victory over Santa Margarita (8-4), which entered the game ranked No. 17.
With the win, Madden & Co. advance to the semifinals on Friday night against Santa Ana Mater Dei (8-4), ranked No. 19 in our final regular-season poll.
"We had some goals this season, and the biggest one was to win a championship. That's the only thing that matters and I'm going to do whatever it takes to help us win the whole thing,'' said Madden, a three-year starter for the Diablos. "We're out to prove we belong, that we're one of the best teams around. ''
Individually speaking, Madden might be the best around. A good argument can be made that he is, in fact, the Southland's best all-around athlete.
In addition to the things Madden brings to the table on defense as one of the Diablos' top tacklers, he also plays a prominent role on offense.
It's not uncommon for him to take anywhere from 10-to-15 snaps a game at quarterback. And with Madden running the Mission Viejo version of the wildcat formation, another dimension is added to an already potent attack.
He has completed more than 53 percent of his attempts this season and has a passer rating of 92 or higher in three of four games on the job. On the ground, Madden is averaging 9.4 yards per carry, to go along with three touchdowns.
It's worth noting he missed about a month of the season because of a foot injury. Otherwise, all signs point to his statistics being far more impressive.
"When you talk about guys that have to be accounted for at all times, Madden definitely falls into that category,'' said Los Angeles Loyola coach Mike Christensen, whose team had no answer for him on Oct. 10. He amassed 128 total yards and scored a touchdown in three quarters of work in a 42-7 nonleague victory.
Madden made a believer out of Rancho Santa Margarita Tesoro as well. He had a rushing touchdown, threw for another score and finished with a combined 213 yards on Nov. 11 in a 30-7 South Coast League victory over the host Titans.
When it has mattered most, Madden has been at his best.
For example, in the playoff quarterfinals against Santa Margarita, he completed all three of his attempts for 76 passing yards and three touchdowns. Madden carried the ball seven times for 61 yards and scored on an eight-yard run as well.
If he wasn't such a key component on the defensive side of the ball, and Mission Viejo didn't already have a capable signal caller in Alex Bridgford, there is a good possibility Madden would have a chance for more work at quarterback. Nevertheless, he poses as a truly undeniable threat for the Diablos.
"You want your best players on the field as much as possible and Tre is one of our best players, it's hard to keep someone like him on the sidelines for long stretches of time,'' Johnson said. "He does so many things well, that's why he is involved in the offensive game plan. Tre is a fun player to watch.''
Despite running the offense well when given the opportunity, Madden appears destined to sack quarterbacks at USC, instead of being the quarterback sacked and thrown for a loss. The Trojans, after all, recruited him to play linebacker.
ESPNU ranks Madden as the country's No. 13 player at his position. It's also worth mentioning that he was selected to play in the U.S. Army All-American Bowl on Jan. 8, 2011 at the Alamodome in San Antonio.
In between now and then, Madden has some unfinished business. His job as the unquestioned team leader is to make sure Mission Viejo maintains its collective focus, particularly on defense, during postseason play.
Ultimately, the Diablos figure to go as far as Madden takes them.
"You hear what people say, about me being one of the top linebackers around, but I don't let it affect me too much,'' Madden said. "I know that in the end, winning a ring, a title, is the most important thing. If we do that, do everything that what we need to on the field, everything will take care of itself off of the field.''