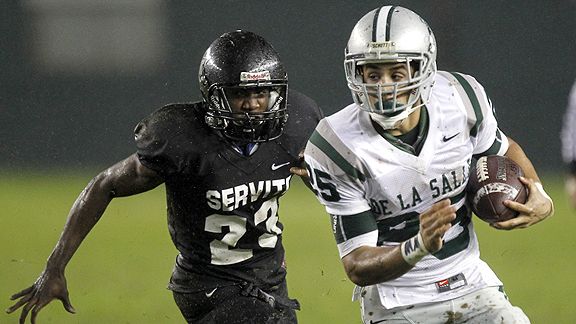 Alex Gallardo/Special to ESPNLA.com
Servite's Malik Felton, left, tries to run down De La Salle's Devin Williams during Saturday's CIF Open Division state bowl game.
CARSON -- More than half an hour had ticked off the game clock when Servite moved the chains. Two and a half quarters, no first downs.
When it finally happened, Servite supporters couldn't help themselves. At last, something to cheer for.
And really, who could blame the home contingent for erupting the way it did? De La Salle kept them quiet for most of the night, running away with a 48-8 victory for its second consecutive CIF State Open Division championship Saturday at the Home Depot Center.
"We tried our best, we lost," Servite coach Troy Thomas said with a smile. "We'll wake up tomorrow with our families and enjoy that we had a great season."
You got the sense afterward that Thomas believed the Spartans' romp was inevitable. The powerhouse from Concord does it to everyone. Thomas, though, had hoped that Servite (14-1) would represent the Southern Section in better fashion.
The Friars' loss meant Southern Section teams went 0-3 on the bowl weekend. Inland Division champion Corona Centennial fell to Palo Alto in the Division I bowl Friday night; Western Division champion Gardena Serra lost to Folsom in the Division II bowl earlier Saturday.
"We didn't really show what we're capable of," Thomas said. "It's hard to go out like that, but I'm proud of these guys. I love them just the same. I'm proud of this program. We'll be back next year."
When the game tape is reviewed, the lesson will be tough to swallow. De La Salle, ranked No. 4 nationally by ESPN, was simply better. But who could have imagined such a rout?
"We prepared for them all week," De La Salle coach Bob Ladouceur said. "This was one of our most physical games all year."
Servite, which earned a spot in the state title game by surviving the difficult Pac-5 Division, amassed a mere 24 yards in its first 21 offensive plays. The Friars had seven yards rushing through the first three quarters.
That, combined with Servite's inability to stop Lucas Dunne (28 carries, 240 yards, four touchdowns), told the story.
Thomas placed the blame on himself, saying he could have done a better job of preparing his team. But in retrospect, the Spartans were just too quick, too big and too powerful in the muddy trenches.
"That was the biggest thing, they really pushed us around," Thomas said. "It happens. It's happened to a lot of people against those guys."
Pushing Servite -- last year's Division II bowl-game winner -- is no easy task but De La Salle did it handily. The Spartans (14-0), behind the aforementioned Dunne and Joe Te'o's 165 yards on nine carries, finished with 475 yards on the ground.
This against a Servite defense that allowed just 13 points per game heading into Saturday.
"We'll go back, learn something from this and hopefully get another shot at this down the road," Thomas said.
The Friars reeled off a methodical 13-play, 80-yard drive late. Cody Pittman capped it with a four-yard touchdown run, giving Servite a moral victory of sorts.
Thomas had one final thought as Ladouceur carried the hardware a few feet away.
"I'm hoping that we can get there someday," Thomas said, again smiling.