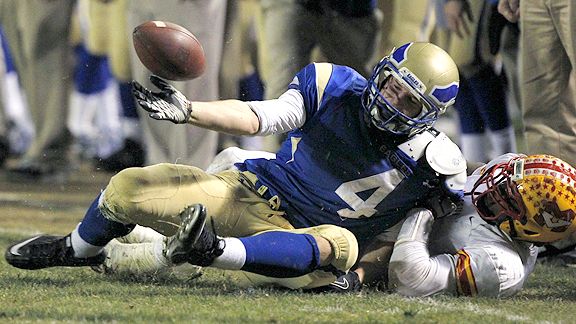 Alex Gallardo/Special to ESPNLA.com
Santa Margarita defensive back Johnny Stanton bobbles the ball after being tackled by Mission Viejo running back Jahleel Pinner after an interception late in the first half.
MISSION VIEJO – The major hurdle that Mission Viejo was supposed to face on its way to the Southern Section Pac-5 championship game was a brick wall, all right. But when you have Superman on your side, brick walls don't mean much. Tre Madden is Mission's man of steel, and he helped turn back an emotional Santa Margarita squad, 31-28, with his defense and his offense, his legs and his arms.
The quarterfinal victory by the top-seeded Diablos, ranked No. 2 by ESPNLA, moves them into the semifinals next week against Mater Dei, a 17-0 winner over Tesoro. Madden's performance overshadowed that of teammate Dallas Kessman, who carried 24 times for 146 yards and two one-yard scores in the fourth quarter. The first gave Mission a 24-20 lead with 8:51 to go, the second made it 31-20 with 3:45 remaining.
"Madden is wonderful, an awesome athlete," said Santa Margarita's first-year coach, Harry Welch, who turned a 3-7 program into one that was 9-3 and more than a handful for the seemingly invincible Diablos.
Madden began the season as a Wildcat quarterback, but 12 victories into a perfect season and Madden is simply a quarterback, period. He is going to USC as a linebacker. However . . .
"Talk to them about the Wildcat," Madden said. "It would be fun."
He completed all three of his passes for 76 yards, each over 20 and each in a touchdown drive. He also ran seven times for 61 yards, only once gaining fewer than eight yards, and the eight-yarder was a touchdown.
And as a middle linebacker he anchored a defense that held Santa Margarita in check, especially the first half when the Eagles mustered only 72 yards to Mission's 222.
He was the difference-maker in a game that could have gone either way.
"I have a lot of confidence in my ability," Madden said. "But I trust my teammates. I can't do anything without them."
Santa Margarita packed its own powerful punch. Emotionally drained and inspired by the death Wednesday of longtime equipment manager Vince Pattee, 74, the Eagles spotted Mission Viejo 10 points in the first quarter but came on strong in the second half. Adam Young passed 49 yards to Logan Sweet to cut a 17-7 halftime deficit to 17-14, and a 43-yard pass that set up Young's three-yard run on the first play of the fourth quarter for a 20-17 lead; a high snap foiled the point-after attempt.
But Mission answered, as it had all night, scoring on its next two drives, Madden passing 27 yards for the big play of the go-ahead drive, and running 17 yards on the drive that gave the Diablos an insurmountable lead.
"Everyone was making plays," Madden said. "Credit the whole team for being focused."
Focus was a concern Welch had for his players. They had been sobbing the last two days in meetings after learning of Pattee's death, and he was afraid they would not be in sync. In the first half, they weren't.
"The way you played that second half, there's no way you're losers," Welch told his players afterward, advising them that the scoreboard isn't the ultimate measure.
Mission outgained the Eagles in the first half, 222-72, but the final total was 388-335.
"These are great young men that just two days ago lost one of the men they love, a man (of) dignity, and with sadness in their hearts – I'm so proud of them, how could anybody be more proud of a team than someone who just lost a coach, a mentor, a friend," Welch said. "That's what's in my heart. I'm proud of them, I just saw a great second half, terrific high school football, a great community together, they played tough, they played hard, they played disciplined and it was exciting football."
It was a year filled with adversity. Midseason, Welch had prostate cancer surgery after learning about it after the season had begun.
Santa Margarita fell behind by 10 points, though a stand on third-and-four at the five-yard line did force a Mission Viejo's Zach Christensen to kick a 23-yard field goal. Mission's first touchdown came after Michael Schmall's interception; he returned it from his 47 to inside the 10-yard line but a penalty negated the back end of the return. Instead, Mission drove 38 yards in five plays with Jahleel Pinner scoring from a yard.
It wasn't until the second quarter that Santa Margarita seemed to find its footing with a nine-play, 67-yard drive keyed by a brilliant catch by Sweet on a 26-yard completion to the three-yard line on a fourth-and-16. Cory Thomson scored from two yards to make it a game, 10-7.
But that's when Mission might have stamped itself invincible in these playoffs. It drove 80 yards in 10 plays, and every key play – except for the 15-yard personal foul against Santa Margarita after an incomplete pass – involved Madden.
He may ultimately be the difference-maker between Mission Viejo and all challengers, including Servite, a 40-16 winner over Crespi, or Alemany, a 42-21 winner over Lakewood. On third-and-six, Madden ran for 11 yards. He then passed for 22. And on second-and-six at the 11, he ran the ball twice, the second time bulling his way into the end zone from eight yards.
Most impressive, though, about Mission is that Madden is not just a Wildcat quarterback. The big play on the first touchdown drive came when he rolled out and passed 27 yards to Pinner. The big play on the 27-yard pass to Frank Randal to get Mission to the one-yard line before retaking the lead, Madden squirmed his way out of a sack and passed on the run.
He is also a devastating linebacker. There's a reason coach Bob Johnson believes the USC-bound recruit is the best around. Because he probably is.