Todd Gerhart is facing another one of those clock management situations.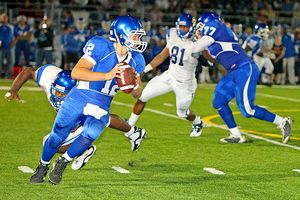 Courtesy of Rob Helfman
Todd Gerhart will coach his son Coltin, above, Friday before beginning a weekend odyssey to see his other two sons play football this weekend.
The Norco High football coach will be on the sidelines Friday night when his youngest son, Coltin, a freshman starting quarterback for the Cougars, plays Etiwanda at Colony High in Ontario.
He will then hustle to the Ontario Airport after the game, board a red-eye flight to Atlanta and then on to Wisconsin, where he'll watch his middle son, Garth, play center for Arizona State in its game Saturday evening against the Badgers.
Gerhart will then hop on another plane Sunday morning and fly to Minnesota, where he'll root for his oldest son, Toby, a rookie running back for the Minnesota Vikings. Gerhart is hoping to make his NFL debut after being on the inactive list last Thursday against New Orleans.
He will then fly back to Southern California on Monday morning, just in time to hold practice.
"I can't miss practice,'' he said.
That's because Gerhart is being more careful about preventing his family life from interrupting his job.
Two years ago, Gerhart missed a game against Riverside Poly because he opted to watch Toby play at Notre Dame while he was attending Stanford. The Cougars were upset, 16-0.
"My superintendent wasn't too happy," he said.
Proving grounds: DeVante Wilson, a highly recruited defensive end for Corona, will have his hands full when his team travels to Mission Viejo on Thursday night for a nonleague game. The Diablos are ranked No. 3 by ESPNLosAngeles.com.
Wilson, at 6 feet 5, 235 pounds, has been lauded for his physical size and tools, but has been criticized by some recruiting gurus for a lack of hustle and determination. Wilson told the Riverside Press-Enterprise earlier this month that he longs for a scholarship offer from USC or UCLA.
"I want to show what I'm capable of doing," he told the newspaper. "I don't want to leave any doubt in their minds."
Wilson will have a great chance to prove himself against Mission Viejo. The Diablos are led by middle linebacker Tre Madden, who has accepted a scholarship offer to USC.
Central Invasion: The gauntlet that's better known as the nonleague schedule for Chaparral of Temecula doesn't get any easier this week. The opponent is just a little lesser known.
Fresno Central is coming to the Inland Empire and potentially bringing three legitimate Division I recruits on offense.
Running back Brendon Bigelow has already committed to Washington, though he's reported to be wavering. Bigelow missed Central's first game against Paso Robles two weeks ago because of a knee injury and his availability against Chaparral is still unknown.
The Grizzlies have plenty of leftover firepower, however, evident by their 54-25 victory against Paso Robles.
In all, Central has 18 returning starters from a team that went 7-4 last season, including 10 on offense. Running back Robert Johnson and wide receiver B.J. Kelley also have several Pac-10 Conference offers.