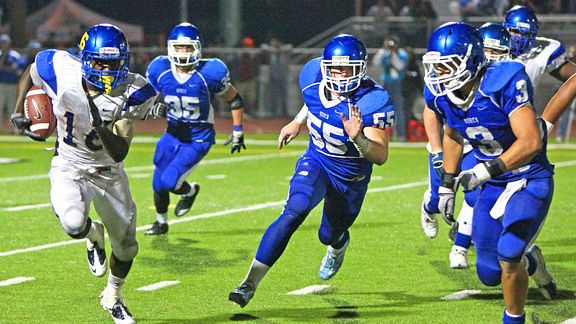 Rob Helfman
Norco High School defenders Scott Starr (3), Chance Baker (55) and Jeramy Russell (35) pursue Crenshaw's dynamic De'Anthony Thomas in Norco's 25-21 victory.
Just what did Friday night prove?
For one thing, the Inland Empire is already playing a role in the Division I state bowl selection.
Crenshaw of Los Angeles probably feels like its on the outside looking in after losing a shocker at Norco, 25-21, dropping last season's Open Division finalist to 0-2.
Chaparral of Temecula also saw its bowl chances diminished after losing its season opener to visiting Oceanside, 21-14, a team that was walloped by 24 points against Servite a week earlier. The Pumas were edged out by Oceanside for the Division I state bowl berth last season.
Chaparral, which began last week ranked No. 7 by ESPNLosAngeles.com, still must snap its chinstrap and find a way through No. 1 Servite and No. 9 Corona Centennial before opening Southwestern League play against No. 8 Vista Murrieta.
More upsets: Now, it was mentioned in this blog last week that Chino Hills would find a way to lose to Corona Santiago, but nobody outside of Corona thought it would come by double digits. Sure enough, the visiting Huskies, ranked No. 4 in the Inland Division coaches' poll, fell behind by two touchdowns early and never recovered in the 24-12 loss.
On Thursday night, Ayala of Chino Hills forced six turnovers and shut out Colony, 25-0, to improve to 2-0. Colony is the defending Mt. Baldy League champion, Ayala finished fourth in the Sierra League. Yes, this is a new season with a lot of new players, but 25-0?
More bragging rights: In addition to Norco's victory against Crenshaw in a matchup of Southern Section and City Section teams, Corona Centennial and Arlington of Riverside were also successful against intersectional opponents.
Centennial traveled to Lake Balboa and defeated Birmingham, 48-8, behind 147 rushing yards and five touchdowns by Barrinton Collins, who moved from wide receiver to running back this season.
Arlington of Riverside defeated host El Camino of Oceanside, 14-10, when quarterback Brian Lavender connected with running back Superiorr Reid on a 39-yard touchdown pass with 39 seconds remaining.
A.B. Miller of Fontana didn't get the best of No. 19 Carson on Thursday night, but the Rebels held a 27-20 lead on the road in the fourth quarter before giving up three unanswered touchdowns and losing, 40-27.
Arroyo Valley left short-handed: Arroyo Valley of San Bernardino had to start the season Friday night without standout quarterback Michael Yearwood, who has not yet been cleared by the Southern Section to begin competition.
Without him, the Hawks couldn't keep up with visiting Palm Springs and lost, 21-9.
Yearwood played for Arroyo Valley last season, throwing for 2,306 yards and 20 touchdowns and rushing for another 1,127 yards and 16 touchdowns. According to reports, he then transferred to Los Angeles University to be near his ailing grandmother.
After his grandmother died, Yearwood transferred back to Arroyo Valley but has not completed the required paperwork to become eligible. His coach, Marcus Soward, told reporters he expects the issue to be settled in time for Friday's game.