James Fortin, a senior linebacker for Lakeside High of Lake Elsinore, will miss about three weeks because of a concussion and spinal contusion, said Lakeside coach Trevor Watters.
Fortin was injured while making a tackle with 1:25 remaining in his team's 39-14 loss to Kennedy High of La Palma. A returning starter, Fortin laid motionless on the field at Western High in Anaheim for nearly 10 minutes before he was transported to UC Irvine Medical Center.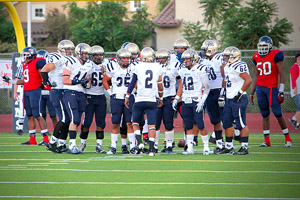 Courtesy of Charlene Bradley
Colony lineman Byron Smith (50), far right, suffered a knee injury later in this game against Los Osos.
The game was not continued.
"I was happy when I saw his legs moving," Watters said.
The news wasn't good at Colony of Ontario either.
Byron Smith, a promising offensive lineman for the Titans and a key member of the basketball team, injured his left knee during the second quarter of a season-opening loss Friday night to Los Osos of Rancho Cucamonga and was wheeled away on the back of a utility cart.
Though the extent of the injury was still unknown Tuesday afternoon, Colony coach Matt Bechtel said, "all indications are it's not good."
Smith had not played since his freshman season, but displayed quick feet with his 6-foot-7, 250-pound frame. He was 25 yards downfield when he was injured Friday night at the end of a teammate's 35-yard run.
"That kid was becoming our best offensive lineman," Bechtel said.