CHINO HILLS -- When you beat teams as easily as Corona Centennial has this season, it's easy to get comfortable.
But the Huskies learned Friday night they can't shift into cruise control this deep into the Inland Division playoffs and expect a walk in the park.
Leading by just five points against host Chino Hills early in the fourth quarter, the top-seeded Huskies finally pulled away down the stretch to win, 42-23, and advance to the championship game next weekend.
"We underestimated them," said Centennial quarterback Michael Eubank. "We thought we'd come out and dominate like we did every week, but we pulled it together and did what we had to do, knowing we had to win this game to get where we wanted to be."
Eubank did his part, rushing for 135 yards in 24 carries and scoring on a three-yard touchdown run. He also completed 14 of 25 passes for 198 yards and another score.
His only miscue came early in the second half, when he was intercepted by Chino Hills defensive back Nate Harris, who returned the ball 50 yards for a touchdown to cut the deficit to 21-17.
Eubank's touchdown run briefly gave the Huskies (13-0) some breathing room, but fourth-seeded Chino Hills (10-3) marched down the field and scored on a three-yard run by Oregon-bound running back/defensive back Ifo Ekpre-Olomu.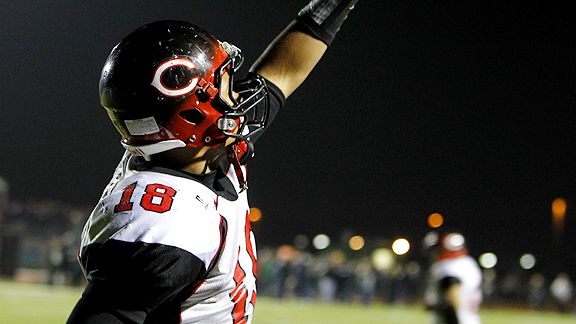 Alex Gallardo/Special to ESPNLA.com
Centennial quarterback Michael Eubank celebrates a touchdown during his team's victory over Chino Hills.
The Huskies set up for a two-point conversation, but then had to move the ball back five yards because of an illegal procedure penalty. They went for two anyway, and Ekpre-Olomu was stopped for no gain.
Chino Hills then tried its fourth onside kick of the game and Centennial recovered for the fourth time. The Huskies took the ball downfield and scored on a one-yard run by running back Barrinton Collins, his third of the game.
"We're a diverse offense," Collins said. "You basically have to pick your poison."
Chino Hills took a 10-7 lead on a 10-yard touchdown pass from quarterback Andrew Chavez to receiver Charles Flowers with 1:25 remaining in the first half. It was the latest Centennial has trailed in a game this season. But the Huskies demonstrated just how quick their offense can strike, scoring two touchdowns in the final minute to take a 21-10 lead into halftime.
Collins got the go-ahead touchdown on a 31-yard run with one minute left. The Huskies then forced a punt and Eubank hit Devon Brown with a 15-yard touchdown pass as time expired.
Ekpre-Olomu, running out of a wildcat formation, led Chino Hills with 119 rushing yards in 19 carries and scored a touchdown.
Centennial will play the winner of Saturday night's semifinal game between second-seeded Vista Murrieta and third-seeded Rancho Cucamonga at Vista Murrieta.