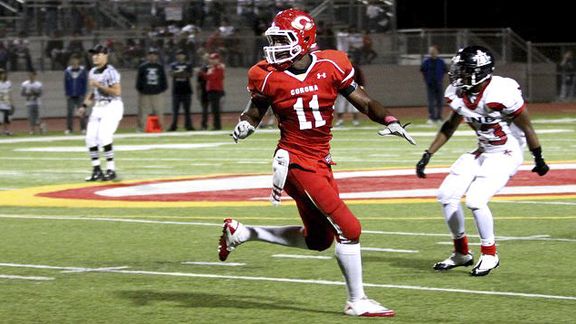 Courtesy of William Zastrow
Corona's DeVante Wilson says he has been a USC fan his entire life.
It was a phone call Corona High defensive end DeVante Wilson had envisioned ever since he watched USC running back Reggie Bush shatter the Pac-10 Conference record for total yards from scrimmage.
On the other end of the line was USC coach Lane Kiffin. He wanted Wilson to be a Trojan. The message arrived on the night of Oct. 8, shortly after Corona defeated Riverside North in a Big VIII League game.
Kiffin told Wilson he liked his speed off the edge. They were impressed with his ability to rush the passer and contain his side of the field.
Wilson wanted to shout at the top of his lungs.
"I felt like a little kid," Wilson said. "I've always been a USC fan."
As much as he wanted to accept the offer, Wilson is intent on enjoying the entire recruiting process. He toured Arizona last month and spent last weekend in Nebraska watching the Cornhuskers lose to Texas.
He plans to make an official trip to USC when the Trojans host Notre Dame over Thanksgiving weekend and announce his college choice shortly after.
If he does commit to USC, the Trojans might want to send a thank you note to Bush, who inspired Wilson with his 513-yard effort against Fresno State on that November day in 2005.
"That was my first college game," said Wilson, who was in seventh grade at the time. "I went to go see Reggie Bush get off against Fresno State, the year he won the Heisman. That was the best game I've seen."
Listed at 6 feet 4, 229 pounds, Wilson has benefitted from the arrival of former USC star and NFL first-round pick Chris Claiborne as defensive coordinator at Corona. Claiborne was hired shortly after last season ended.
"Coach Claiborne was working with us all offseason," Wilson said. "He was giving us USC drills."
Here's an interview following Corona's loss to Riverside King on Friday in which Wilson discusses his recruiting process and thoughts on USC.