CARSON -- It slipped away in the downpour.
Serra coach Scott Altenberg wouldn't use the rain as an excuse, but the wet conditions had an effect on his team.
The usually fleet-footed Cavaliers were forced to slow down. Folsom capitalized on a flurry of Serra mistakes, turning a tight contest into a resounding 48-20 win in the CIF Division II state championship Saturday at the Home Depot Center.
Serra trailed by one heading to the fourth quarter, but Folsom converted three turnovers into three touchdowns in a mere 1:14 for a 21-point lead.
"The conditions definitely affected us a little bit," Altenberg said. "But Folsom's a great football team. You don't take anything away from them. They played well."
The Cavaliers (14-1) committed five turnovers -- all in the second half. Dual-threat quarterback Dano Graves threw for three touchdowns, ran for three more and had 297 yards of total offense for Folsom (14-1).
"This is amazing," Graves said. "One of the best feelings of my life. We're going to Disneyland. I'm not kidding about that; we're really going to Disneyland."
Graves' play was magical throughout. Folsom took the opening kickoff 77 yards and claimed a quick 7-0 lead on an eight-yard touchdown pass from Graves to Tyler Trosin two plays later. The Bulldogs doubled their lead shortly after on another Graves-to-Trosin hookup, this one for 42 yards.
"We had a lot of momentum," Graves said.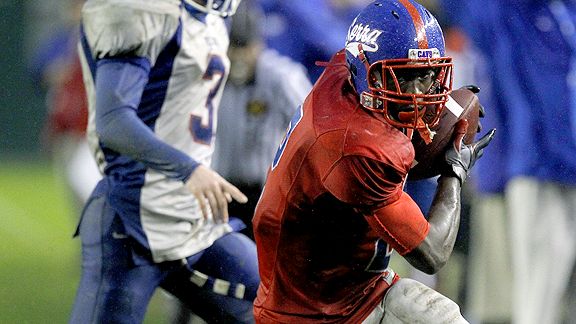 Alex Gallardo/Special to ESPNLA.com
Serra's Marqise Lee looks for some yardage during his team's 48-20 loss to Folsom in the CIF Division II state bowl game.
Serra trailed by two touchdowns after just four defensive snaps. Talk about uncharted territory.
"We didn't play real well at the beginning," Altenberg said. "We had some problems and made a lot of uncharacteristic mistakes."
The Mission League and Western Division champion Cavaliers responded well, scoring 20 unanswered points to assume a 20-14 advantage. Preston (12-for-19, 237 yards passing) had touchdown passes of 25 and 65 yards to star wideouts Marqise Lee and George Farmer, respectively, and Shaquille Richard (23 carries, 131 yards) tacked on a 16-yard touchdown run. Francisco Olluqui missed the point-after attempt, which allowed Folsom to regain the lead, 21-20, when Graves scored from three yards late in the second quarter.
Serra drove 73 yards in 50 seconds, but Olluqui missed a go-ahead field-goal try as time expired in the first half.
"Really poor on special teams," Altenberg said. "We're normally much better than that."
The Cavs had issues before the game even started. Kickoff was delayed 17 minutes when Serra had to change out of the 3/4-inch spikes in which it warmed up. By CIF rules, nothing more than a half-inch spike is permissible for play.
"We went crazy to change them out," Altenberg said.
Perhaps Serra exerted too much energy in the pregame scramble. Perhaps the last-minute alteration played a role psychologically.
Regardless, Serra had opportunities to jump ahead in the third quarter. But a Richard fumble ended a drive near the red zone and a Preston interception in the end zone on the next possession all but sealed the deal.
"We just didn't make the plays when we had to," Altenberg said. "In the end, that's what got us. We had to do better than that."
The loss snapped Serra's state-best 29-game win streak and denied the Cavaliers of back-to-back state titles.
"We had a great year," Altenberg said. "We had a great run here in these 30 games."