1. Riverside Poly defensive back Matt Peck intercepted four passes in a 31-7 victory Friday night against Riverside Ramona. Peck, a 5-foot-10, 185-pound junior, picked off two passes in the second quarter and two more in the fourth. It's the most interceptions in a Southern Section game since Martin Ciccolini of Encino Crespi had four in 2004. The section record is five, held by six players. 
2. Summit of Fontana was without two key players Friday night against Redlands, a game that ended in a 24-24 tie. Devon Blackmon, a heavily recruited all-purpose player for the SkyHawks, sat out because of an ankle injury he sustained in the first quarter of the season opener Sept. 2 against Etiwanda. Summit was also without running back Montigo Alford, who had a mild concussion. Another player, defensive back Dante Jackson, tore his rotator cuff against Etiwanda and is lost for the season.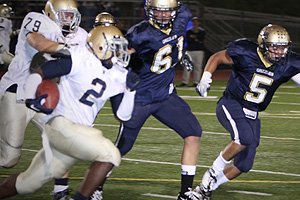 Courtesy of Charlene Bradley
Denzel Foster of J.W. North rushes for yardage against Los Osos.
3. Mark Paredes returned to the sidelines at J.W. North in Riverside on Friday night, a place from where he guided the Huskies to two Southern Section titles during an eight-year stint. He left North in 2001 to become an assistant at Riverside College. North sophomore running back Denzel Foster welcomed him back with a 92-yard touchdown run in the opening quarter against Los Osos of Rancho Cucamonga but was stopped on fourth down in the game's final minutes, spoiling Paredes' return in the 26-21 loss.
4. Upland looked more like a contender for the Baseline League title Friday night, getting three touchdown passes from quarterback Justin Nunes and turning three fumble recoveries into touchdowns in a 42-21 victory against visiting Tustin. A week earlier, the Highlanders returned two fourth-quarter fumbles for touchdowns to escape with a 21-16 victory against A.B. Miller of Fontana.
5. Roosevelt of Eastvale became just the fifth 11-man team from Riverside County to score at least 80 points in a game when it defeated host Torrance, 80-27 on Friday night. The Mustangs scored on every offensive possession in the first half while building a 41-13 lead.