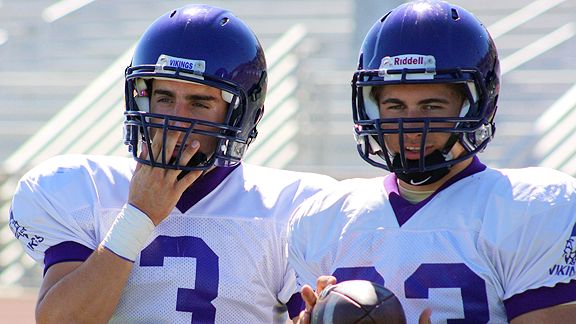 Tim Haddock/Special to ESPNLA.com
Quarterback Alex Bishop, left, has thrown seven touchdown passes and running back Steven Manfro, right, has scored 10 touchdowns for the Valencia football team.
The Valencia football team, ranked No. 9 in the ESPNLA.com poll, has been riding on the shoulders and legs of running back Steven Manfro in the first two games of the season.
The Palmdale football team has relied on safety Dave Richards to come up with big plays on defense in its first two games of the season.
When the two teams meet on Friday night at Valencia High School, it will be interesting to see who has the bigger game.
Manfro has scored 10 touchdowns and gained nearly 600 yards from scrimmage. He scored five touchdowns in the season opener against Sherman Oaks Notre Dame. He scored another five against Birmingham last Friday night.
"Manfro is a handful," Palmdale coach Jeff Williams said. "We've seen him in person. We've seen him on film. The team is disciplined. They execute really well. They don't make many mistakes."
Richards, who committed to the University of Arizona earlier in the week, has scored two touchdowns, one on an interception in the season opener against Hart and the other in his team's 14-10 win over Granada Hills Kennedy. Richards has three interceptions in two games and accounted for both of Palmdale's touchdowns in the win over Kennedy. He threw a touchdown pass and blocked a field-goal attempt for good measure.
"We want to get the ball in his hands as much as possible," Williams said. "He makes things happen."
Valencia coach Larry Muir said the outcome of the game could come down to the play of his team's offensive line. Muir said he doesn't plan on keying on Richards, but how well his offensive linemen can alter Richards' game might be the determining factor.
"The key for us has been our offensive line," Muir said. "Our offensive line has to do a good job week after week. That's what works for us."
Muir said Richards isn't the only stopper on defense for Palmdale. Other players have contributed as well and Muir doesn't want to ignore anyone.
"We don't double anyone. We just do our deal," Muir said. "We rely on preparation. He's a talented player. We just need to limit that big-play factor."
As for Manfro, he is off to a great start, the latest in an impressive line of running backs to come out of Valencia that includes Manuel White and Shane Vereen.
"He's had a terrific season already, so far," Muir said. "He's worked on his speed. He works really hard every week. As the year goes, he'll get better."
The Valencia offense has been scoring points at an alarming rate. The Vikings beat Notre Dame, 49-32, and Birmingham, 47-6. Consider Valencia has scored that many points without two of its best receivers and it makes it more impressive.
Valencia quarterback Alex Bishop has thrown for 661 yards and seven touchdowns in two games. Manfro has racked up 590 yards from scrimmage and scored nine touchdowns. His 10th touchdown came on a kickoff return against Birmingham.
"That's the challenge," Williams said. "Bottle those two up."
Muir said he has had to move some players around on offense because of injuries, but it hasn't affected the offensive production much.
"We're always looking to tweak things," Muir said. "We've had to move some personnel around a little bit."
Palmdale quarterback Shaun Gutierrez scored three rushing touchdowns in his team's season-opening win against Hart. He wasn't nearly as effective in his team's win over Kennedy. Williams said Gutierrez had a case of the sophomore blues against Kennedy.
"He came down to reality a little bit," Williams said. "Against Hart, it was pure adrenaline. He's a slippery little player. Kennedy did a real good job of getting to him."
Other games
Thousand Oaks (1-1) at Newbury Park (1-1), Friday
The winner evens its Marmonte League record at 1-1. The loser will be labeled as the best 0-2 team in the Marmonte League.
Canyon (2-0) at Camarillo (2-0), Friday
A pair of 2-0 teams butt heads. Canyon gets its first real test of the season. Camarillo has to hold serve at home to keep its undefeated record intact.
Woodland Hills Taft (1-1) at No. 12 Alemany (3-0), Friday
Alemany is averaging 35.3 points per game and is looking to win its fourth game in a row. Taft is coming off a 38-35 win over Sherman Oaks Notre Dame.
No. 25 Crespi (2-1) at Chula Vista (1-2), Friday
After a 14-11 loss to Dominguez on opening night, Crespi has posted impressive wins over Jordan and Clovis West. Chula Vista is coming off a 35-14 loss to Hilltop.