CORONA -- For those high school football fans who haven't heard of the name Michael Eubank, consider this as a formal introduction.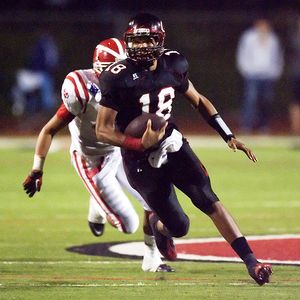 Larry Goren/For ESPNLA.com
Centennial quarterback accounted for 380 yards of offense in his team's rout of Mater Dei.
The 6-foot-5 and 220-pound senior quarterback from Corona Centennial did a little bit of everything on Friday evening, most of it extremely well. And as a result, the host Huskies had little trouble thoroughly defeating Santa Ana Mater Dei, 44-13, in a nonleague game.
"My goal was to come out and make a big statement tonight in front of everyone,'' said Eubank, who completed 11-of-17 passes for 200 yards passing with a pair of touchdown passes. He also carried the ball 13 times for 180 yards on the ground and scored three touchdowns.
Entering the game, Mater Dei quarterback Max Wittek was thought to be the main attraction. The USC commit struggled from start to finish though and ended up 11-of-25 for 176 yards with two interceptions.
Turns out, Wittek was overshadowed by his counterpart. And keep in mind Eubank has one scholarship offer thus far, Northern Colorado. Others figure to follow suit after his performance Friday.
"I wanted to prove that I can hang with a USC boy,'' Eubank said. "When people underestimate me, it only motivates me more. I'm hungry. I hope this is an eye-opener for Division I coaches. I'm a dual-threat, I can pass it or run it, you saw that out there. I did what I had to do.''
Indeed Eubank did what he had to do, seemingly whenever he wanted. Not surprisingly, Centennial (2-0), No. 7 in ESPNLosAngeles.com's Top 25 rankings, was never threatened by the Monarchs (1-1).
The Huskies opened the second half with a 37-0 lead, but that didn't mean they were going to let up on Mater Dei in any way, shape or form. Accordingly, Eubank scored on a 3-yard run with 3:22 left in the third quarter to essentially demoralize the Monarchs.
"Michael is a good player, but we knew that coming in,'' Wittek said. "He was making big play after big play. It was one of those nights where he could do no wrong. Everything was working for him.''
Apparently, a 21-point advantage with less than six minutes remaining in the second quarter wasn't quite enough of a lead for Centennial. The Huskies wanted another score before halftime. And make no mistake, they found the endzone again, a couple of different times, in fact.
Barrinton Collins got things going by picking up 45 yards on a run to move the ball deep into Mater Dei territory. A minute later, Eubank found Eric Finney on a 12-yard post pattern for a touchdown to extend the lead to 28-0 with 3:06 left in the second quarter.
The Huskies received the ball back with 2:06 remaining on the first half clock. And unfortunately, there was nothing the Monarchs could do to stop Eubank from finding Finney again, this time on a 65-yard touchdown pass to make it a 34-0 game with 1:44 before the break.
Ezequiel Rivera put the finishing touches on Mater Dei, in the first half anyway, when he kicked a 20-yard field goal with six seconds left in the second quarter to give the Huskies a 37-0 lead at intermission.
The Huskies scored first, fittingly on a Eubank 84-yard touchdown run that gave Centennial a 7-0 lead with 11:02 left in the first quarter.
On the Huskies' second possession of the game, Eubank connected with Larry Scott on a 36-yard pass play to move the ball inside the Mater Dei 5-yard line. Next thing you know, Collins scored on a 3-yard touchdown run to give Centennial a 14-0 lead with 8:36 left in the first quarter.
At that point, Mater Dei might've known it was in trouble.
Having moved the ball with relative ease early on, the Huskies got a little greedy near the end of the first quarter. They converted a pair of fourth down opportunities, but on their third attempt to convert Eubank's pass to Scott fell incomplete and Mater Dei took over at its own 33-yard line. It was one of the few failed attempts to score by Centennial.
At that point, it appeared as if the Monarchs had gained some much-needed momentum. Everything, however, changed when Daniel Mireles stepped in front of a Wittek pass at the Huskies 33-yard line. Not surprisingly, the Centennial offense made Wittek pay for the mistake.
Eubank immediately took off on a 44-yard run to move the ball inside the Monarchs 10-yard line. Shortly thereafter, he scored on a 1-yard touchdown run to extend the lead to 21-0 with 5:46 left in the first half.
"Michael is underrated, but after everyone sees what he did to Mater Dei, he won't be under the radar for much longer,'' said Collins, who ended up with 130 yards on 21 carries. "He went out and handled his business tonight, just like we knew he would. He did a great job.''
Wittek threw a 45-yard touchdown pass to Sedric Hill and John Tavarez returned an interception 13 yards for another score late in the fourth quarter for the Monarchs
Mater Dei standout Victor Blackwell, a senior wide receiver who was questionable for the game because of a shoulder injury, was in the starting lineup and finished with six receptions for 65 yards.